Mustang Creek Estates Residential Assisted Living and Memory Care offers seniors a home-like, affordable living community that features 24 hour compassionate care in five lively Texas neighborhoods.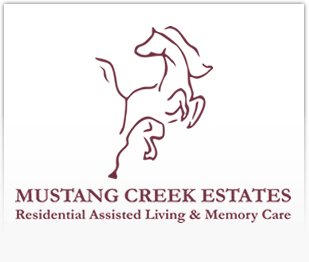 Mustang Creek Estates founders, John Roach and Reneé Ramsey believe that assisted living should be both affordable and like home. With this simple idea in mind, Roach and Ramsey operate the residential assisted living and memory care community of Mustang Creek to meet the needs of each individual community member. All five Mustang Creek Estates locations offer intimate and compassionate care around the clock in a personal setting. Treating residents like family, the staff goes the extra mile to build genuine relationships with all members of the Mustang Creek Estates community.
In all Mustang Creek Estates neighborhoods, care and quality of life are put first. Residents of Mustang Creek enjoy the pleasures of life, from socializing with other community members and spending time with family to taking walks, gardening in their own yard, and so much more!
Locations
Mustang Creek Estates maintain five residential style assisted living and memory care neighborhoods throughout the state of Texas. Each unique home houses 10-16 residents. Every location offers all-inclusive, 24 hour compassionate care — the rates are all-inclusive with no charge for levels of care.
Neighborhood locations include:
710 – 720 Creek Valley Ct.
Allen, Texas 75002-5294
1155 NW John Jones
Burleson, Texas 76028
1200 West Main St.
Frisco, Texas 75033
675 Rapp Rd.
Keller, Texas 76248
3900 Ranch Road
Sachse, Texas 75048
To find out which Mustang Creek Estates neighborhood is best for your loved one or family member, contact the team directly via the contact form on their website. A representative will reach out to you shortly via email or phone (whichever you prefer).
As always, the Mustang Creek Estates community looks forward to meeting you and your loved one!

Mustang Creek Estates
Average rating:
0 reviews