Mustang Creek Estates Allen is one of five Residential Assisted Living and Memory Care communities operated in Texas. Since 2005, Mustang Creek has been a Star Local Media Readers' Choice Winner.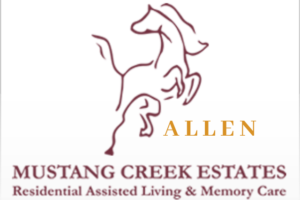 Mustang Creek Estates Allen is revered for its dedication to providing senior citizens with a living environment that feels like home. Operating like a small and friendly neighborhood, the staff's goal is to make sure that each resident feels comfortable in the community.  This unique approach to assisted living and memory care has been recognized by publications like Star Local Media.  For 13 consecutive years, the Mustang Creek Estates network of communities was honored with a Readers' Choice Award.
Allen Location Information & Directions
710 – 720 Creek Valley Ct.
Allen, Texas 75002-5294
Mustang Creek Estates Allen is a wonderful option for individuals who love the great outdoors! Bethany Lakes Park, Shadow Lakes Park and Ford Park East are just a few of the serene nature parks located nearby. This is a great opportunity for residents to enjoy the outdoors with their family members and loved ones during those memorable visits!
In The News
The Mustang Creek Estates Allen community is as connected with the Allen community as it is with its own.  In 2019, the Allen community honored Breast Cancer Awareness Month by inviting Pink Heals National Tour. Pink Heals is a volunteer-led grass roots tour around the world that advocates for breast cancer awareness.  The organization's pink fire trucks and police cruisers aim to bring attention to the ongoing campaign to find a cure.
One Mustang Creek Estates Allen resident was particularly appreciative of this exciting visit.  She herself had taken on and beat breast cancer back in her 20s. This wonderful story of community connection was highlighted on the local news station, NBC 5.
Interested in learning more about Mustang Creek Estates Allen?  Be sure to visit their website!

Mustang Creek Estates Allen
Average rating:
0 reviews