Mustang Creek Estates Sachse provides loving and compassionate Assisted Living & Memory Care that is balanced with enrichment activities and outings that keep their residents entertained and enthusiastic.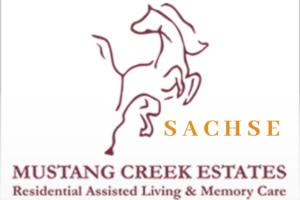 Sachse Location Information & Directions
3900 Ranch Road
Sachse, Texas 75048
Mustang Creek Estates Sachse is located right off of Texas State Highway 78, making it an ideal location for friends and family to visit their loved ones.  Nearby establishments include a Walmart Supercenter, The Brick Tavern Bar and Grill and Frankie's Mexican Cuisine. Located roughly 30 minutes from the heart of Dallas, Mustang Creek Estates Sachse is easily accessible by friends and family who may be flying in to visit their loved ones.
Social Activities
Life at Mustang Creek Estates Sachse is all about enjoying every single day! That's why the staff works hard to provide Sachse residents with fun and exciting social activities. When possible, Mustang Creek Estates even makes the dreams of their residents come true.

In January 2020, a Sachse resident named Diana was granted the wish of a lifetime when she was able to get back in the saddle again. A lifelong lover of horses, Diana always enjoyed riding horses and spending time with animals. But when she lost her leg due to illness complications, Diana didn't think she'd ever ride again. Thanks to her Mustang Creek community and Jake E's Riding Round Up, Diana was able to ride a horse again! The outing was particularly special to Diana and her family. This wonderful event is exemplary of the incredible care that residents receive at Mustang Creek Estates Sachse. When the staff is able to go the extra mile for their residents — they do, every single time!
For more information about the exciting enrichment activities hosted by Mustang Creek Estates Sachse, be sure to check out their official website.

Mustang Creek Estates Sachse
Average rating:
0 reviews