Mustang Creek Estates Frisco is a premier Residential Assisted Living and Memory Care neighborhood that provides compassionate senior care in a community that feels like home.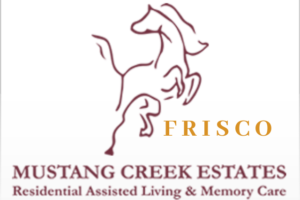 Mustang Creek Estates Frisco is one of five Residential Assisted Living and Memory Care communities operated by John Roach and Reneé Ramsey.  Offering seniors and their families a unique take on assisted living, Mustang Creek Estates combines compassion with community.  The Frisco location provides residents with 24/7 care in a personal setting.
Frisco Location Information & Directions
1200 West Main St. 
Frisco, Texas 75033
Mustang Creek Estates Frisco is conveniently located in a lively neighborhood in the Dallas-Fort Worth metro area. Nearby establishments include Frisco Fine Art, Cornerstone Community Church and VitalPet Veterinary Center. Family and friends of residents at Mustang Creek's Frisco neighborhood enjoy the many opportunities for frequent visits. With so many great restaurants to choose from in the area, Frisco residents love going out for a bite to eat with their friends and family! Fan favorites include Randy's Steakhouse and The Heritage Table.
Services & Amenities
The staff at Mustang Creek Estates Frisco goes the extra mile to ensure that all residents feel comfortable and at home. Every day, residents enjoy three home-cooked meals and snacks. Staff also provide residents special assistance with bathing and showering, dressing and grooming and medication administration. On-site amenities in the neighborhood include:
24/7 staff presence
Emergency call system
Social activities, such as regular outings and exercise classes
Phone, cable and WiFi
Laundry and linen service
Daily housekeeping
Do you want to learn more about Mustang Creek Estates Frisco?  Be sure to contact the team directly on the Mustang Creek Estates website to request more information about this location!  You can also contact staff to conveniently request a visit at any one of Mustang Creek's five locations throughout the state of Texas.  

Mustang Creek Estates Frisco
Average rating:
1 reviews
Feb 13, 2020
My mother loves living there!
I felt awful for having to move my mom out of her home when she needed extra help, but Mustang Creek was a Godsend! The caregivers are so sweet with her and take such good care of her, I don't have to worry if I made the right choice for her. She has made new friends and is really happy there. If the time comes when I need someone to take care of me, I'm moving myself in there.