Mustang Creek Estates Keller offers residents 24 hour compassionate residential assisted living and memory care in a personal environment.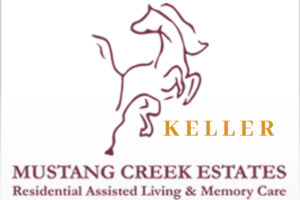 At Mustang Creek Estates Keller, residents are treated just like family. It's all part of John Roach and Reneé Ramsey's vision for revolutionizing modern residential assisted living and memory care. Across the five Mustang Creek Estates locations, the pair and their devoted staff work hard to ensure that residents enjoy a compassionate, personal and home-like community.
Keller Location Information & Directions
675 Rapp Rd.
Keller, Texas 76248
As always, there's no place like home. At Mustang Creek Estates Keller, the staff ensures that all residents truly feel at home. It certainly helps that the Keller location is situated directly within a residential area. The Mustang Creek Estates team believes that this is truly exemplary of what MCE is all about! Always putting 'residential' at the forefront, Mustang Creek Estates Keller stands as a community. This particular location is ideal for individuals whose loved ones live in or around the Keller, Texas or Southlake areas. But of course, it is still an excellent option for those who are looking to move into a new neighborhood!
Community Connections
When possible, Mustang Creek Estates Keller loves connecting their residents with outside communities. In 2019, Keller resident Bill Dooley was incredibly grateful to relive the camaraderie of motorcycle club culture. The Disciple Christian Motorcycle Club rode their motorcycles into the Mustang Creek Estates Keller community to spend some time with Dooley. He was thrilled to enjoy the camaraderie he had enjoyed so much in his younger days. As a result of the visit, Dooley made lifelong friends with the bikers, who were more than happy to ride in from all over the state of Texas. At Mustang Creek Estates, helping residents relive and embrace their memories is always a highlight for everyone involved!