9377 E. Bell Rd., Suite 343
Scottsdale, AZ 85260

Sonospine Scottsdale Arizona is a center of innovation in ultrasonic spinal surgery on the west coast founded by Dr. Dilantha B. Ellegala MD.
Sonospine maintains locations in Virginia, Arizona, and Washington, D.C. All procedures are performed by board-certified and acclaimed surgeons including:
Mohamed Abdulhamid MD
Jim Chadduck MD
World-renowned innovator, Dr. Dilantha B. Ellegala MD, has received wide acclaim across the globe for his revolutionary surgical techniques. He is responsible for developing the Sonospine Sonosculpt procedure, which is both FDA-approved and backed by 22 patent claims. At the Sonospine Scottsdale Arizona location, he performs the spinal surgery along with Dr. Mohamed Abdulhamid. The technique, which relies on state-of-the-art ultrasonic technology, is an alternative to invasive spinal surgeries such as spinal fusion and has been declared the future of spinal care.
Spinal fusion poses a number of risks, including (but not limited to):
Spinal fluid leak

Nerve damage

Blood clot formation

Bleeding in excess

Pseudoarthrosis

Infection
Additionally, the typical recovery time for a traditional spinal fusion surgery is 6 months, as opposed to the 6-8 week recovery period most patients experience with Sonosculpt. This means that patients are able to get back to their daily lives and activities faster and with less worry. Sonospine in Scottsdale, Arizona offers this cutting-edge procedure to treat:
Herniated discs

Degenerative disc disease

Foraminal stenosis

Bone spurs

Failed back surgery syndrome

Spinal stenosis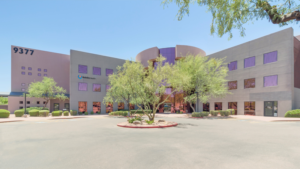 Sonospine Scottsdale Arizona offers complimentary MRI reviews to new and prospective patients. The consultation serves to inform interested parties about the Sonosculpt process. Together, Dr. Ellegala, Dr. Abdulhamid and their highly-qualified team of surgery experts evaluate how Sonosculpt can uniquely benefit each potential patient.
To learn more about how Sonospine Sonosculpt can help bring relief to your spinal pain or muscle tissue condition, visit the Sonospine Scottsdale Arizona website or give them a call at 888-95-SPINE. 
Other Sonospine locations:
Sonospine Washington DC
115 Park Street, SE, Suite 300
Vienna, VA 22180
Certified Consumer Reviews
Average rating:
10 reviews
Jun 25, 2019
Great Experience
Dr. Abdulhamid was the first specialist I've met with who unapologetically ordered the imaging I needed for a thorough evaluation and diagnosis. The consultation did not feel rushed and I left feeling confident with a plan going forward and what to expect. I would highly recommend SonoSpine for anyone needing spinal surgery.
Apr 5, 2019
Amazing people that work in that place!
Dr. Mohamed is a kind and intelligent doctor. He explained to me in details what does my MRI indicates and even told me that i wont need any surgeries at this point as im doing better on my own graually! Honest doctor in a time that there aren't so many honest people around! Thank you Dr. Mohamed and may god bless you.
Mar 15, 2019
MRI review and treatment
Dr Ellagala explained in detail what the MRI revealed, the surgical procedure, how it will remove the lower back pain I have been suffering for a long time. Post surgery meal and exercise program that was geared to reduce weight and strengthen muscles in this specific area. We talked of other options including theraphy.
I came away with a clear idea and plan in mind how I can be rid of the nagging back pain that has haunted me.
Their staff iis professional, knowledgeable and friendly. Overall, a very good experience.
Mar 12, 2019
Consult for a post surgical complication
I am writing this to thank Dr Ellegala and his office staff for their help with my post surgical complication. They agreed to see me after another surgeon was not able to finish my care. Dr Ellegala called me at home to discussed my issue, then got me in on the next office day. After the exam, he made several calls on my behalf to get me admitted with the best surgeon to correct my complication. Dr Ellegala and staff were very personable and helpful. I have had five spinal surgeries in my history. I will be calling Sonospine should I need spinal surgery again.
Feb 8, 2019
No more pain after neck surgery with Sonospine
After 50 years of neck and shoulder pain following an injury when I went through the windshield of a car when I was 15 years old (I am now 65) doctor Ellegala evaluated the problem and performed neck surgery. Following the surgery, I left the surgery center with no pain and I have had very little subsequent pain. The Sonospine experience has been fabulous.
Jan 29, 2019
Great Care Diagnosis & Treatment from Dr. Abdulhamid
Having been advised that I had possible lumbar nerve damage, I had an MRI and a subsequent appointment with Dr Abdulhamid. He spent more than thirty minutes analyzing the MRI results and explaining the possible source of pain in my lower back. He diagnosed the problem not to be originating from my spine but from an infection or muscle strain above my hip. The meeting was a god send and helped me work toward resolving my problem by physical therapy. As he said it sometimes takes time to let our body heal. Thanks for your advice and care Doctor.
Jan 21, 2019
Spinal Stenosis - Chronic Pain down Right Leg
I am 69 years old, athletically active and an avid tennis player. I suffered for two years going through alternative treatments to relieve the pain that went down my leg to my ankle. My condition was so bad that I could hardly walk my dog for ten minutes no less play tennis. I heard about Sonospine and Dr. Ellegalla's procedure on the radio. I uploaded my MRI for his review and received a call from one of his staff and reviewed my condition on the phone. I made an appointment and flew from Atlanta to Scottsdale the following week and to meet with Dr. Ellegalla. He is the most amazing person and his credentials are outstanding. He looked me in the eye and said I can help you. I had faith in him and made an appointment for surgery the following week in Scottsdale. That was the best decision I ever made and wish I had known about Dr. Ellegalla's amazing procedure earlier. I had the surgery and have not had any pain since the day I left his office last August. In fact, I went out to dinner the evening of my surgery with my daughter. Six weeks after surgery with physical therapy, I was back on the tennis courts doing intense 2-hour drills and playing league tennis. I can only thank Dr. Ellegalla and his staff for giving me back my life. I am forever grateful!
Jan 8, 2019
Freedom to live an active lifestyle again after neck injury
I am an active 45 year old that was in a car accident. I had a neck injury and was losing feeling in my arm and unable to sleep in addition to other symptoms. After trying every alternative and non surgical treatment available, with no relief, I finally gave in to the idea that surgery was my only option. I met with a few surgeons and my Sonospine consultation was my 3rd. Dr. Abdulhamid was empathetic and took the time to understand my injury, my symptoms and what my lifestyle expectations were post surgery. Sonospine was by far the least invasive surgery that would lead me back to my normal, active lifestyle the fastest. Within 4 weeks post-op I was in physical therapy. At 6 weeks I was back in yoga classes. Now 5 months post-op, I am fully back to my normal life and feeling great after almost 2 years of being in pain. The entire Sonospine team was wonderful to work with and I would recommend anyone considering surgery to see if Sonospine is an option for you.
Jan 4, 2019
Cervical Spine Surgery Scottsdale Arizona
I contacted Dr. Ellegalla regarding an old neck injury caused by going through the windshield of a car 50 years earlier. I was having continuous neck pain and it was radiating down to my shoulders. The Doctor examined my MRI and agreed to perform the surgery. The surgery took about an hour and I left pretty much pain-free. I am looking forward to starting physical therapy and rebuilding the strength in my neck muscles.

Next step will be looking at my lumbar spine to treat a 30 year old injury. I love the team at Sonospine and am blown away by their professionalism. Thanks Sonospine!
Dec 28, 2018
Chronic Back and Nerve Pain | I Feel Amazing Now
After suffering for nearly a year, in chronic back and nerve pain down the right side of my body, even difficulty sleeping every time I would move or rollover I felt the pinching. I went to Chiropractors, Neurosurgeons who wanted to crack my sternum to fix my issues, I took another road and decided to get injections which was only temporary relief. After about 11 months in back pain My wife and I discovered SonoSpine and Dr Ellegalla. We both literally read everything online about him and watched every video and nothing but positive reviews. I uploaded my MRI to him and received a phone call days later from Dr Ellegalla ,he was extremely patient with my questions and explained everything to me in details and he told me he could help me. My wife and I decided to schedule Surgery , met in his office two days before surgery Dr Ellegalla consulted us for about an hour and a half explaining the procedure.. To make a long story short it's the best decision I ever made, I was back to work two weeks later of course on light duty and now I am almost two months out and still feel incredible. I am doing physical therapy like the Dr recommended and his office still stays in touch to see how I am feeling. I have never had a dr who is so caring of their patients. His whole office staff and PA Jennifer have been incredible, if I have questions about something I have sent texts out to his PA and always get a response. Dr Ellegalla and SonoSpine have literally saved my life and quality of life. I will be able to Coach baseball again and this year with No pain.