3900 E Camelback Rd. Suite 195
Phoenix, AZ 85018

Sonospine Phoenix Arizona is a center of innovation in ultrasonic spinal surgery on the west coast founded by Dr. Dilantha B. Ellegala MD.
Sonospine maintains locations in Virginia, Arizona, and Washington, D.C. All procedures are performed by board-certified and acclaimed surgeons including:
Mohamed Abdulhamid MD
Jim Chadduck MD
World-renowned innovator, Dr. Dilantha B. Ellegala MD, has received wide acclaim across the globe for his revolutionary surgical techniques. He is responsible for developing the Sonospine Sonosculpt procedure, which is both FDA-approved and backed by 22 patent claims. At the Sonospine Phoenix Arizona location, he performs the spinal surgery along with Dr. Mohamed Abdulhamid. The technique, which relies on state-of-the-art ultrasonic technology, is an alternative to invasive spinal surgeries such as spinal fusion and has been declared the future of spinal care.
Spinal fusion poses a number of risks, including (but not limited to):
Spinal fluid leak

Nerve damage

Blood clot formation

Bleeding in excess

Pseudoarthrosis

Infection
Additionally, the typical recovery time for a traditional spinal fusion surgery is 6 months, as opposed to the 6-8 week recovery period most patients experience with Sonosculpt. This means that patients are able to get back to their daily lives and activities faster and with less worry. Sonospine in Phoenix, Arizona offers this cutting-edge procedure to treat:
Herniated discs

Degenerative disc disease

Foraminal stenosis

Bone spurs

Failed back surgery syndrome

Spinal stenosis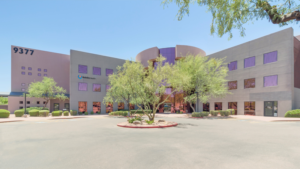 Sonospine Phoenix Arizona offers complimentary MRI reviews to new and prospective patients. The consultation serves to inform interested parties about the Sonosculpt process. Together, Dr. Ellegala, Dr. Abdulhamid and their highly-qualified team of surgery experts evaluate how Sonosculpt can uniquely benefit each potential patient.
To learn more about how Sonospine Sonosculpt can help bring relief to your spinal pain or muscle tissue condition, visit the Sonospine Phoenix Arizona website or give them a call at 888-95-SPINE.
Other Sonospine locations:
Sonospine Washington DC
115 Park Street, SE, Suite 300
Vienna, VA 22180
Sonospine Phoenix Arizona
Average rating:
11 reviews
Nov 7, 2019
Dr Ellegala and his Staff Gave me my life back!
I want to thank Dr Ellegala and his staff for giving me my life back. Exactly 1 year ago, i develpped a bulging disk in my neck. I went through 2 PPC, 2 chiropractors, consulted with 2 surgeons and did physical therapy with no relief. The surgeouns made me anxious about surgery. In September, I met Dr Ellegala and instently knew i was in the right place. By this time, the disk herniated and was pressing on my spinal cord. I was loosing dexterity, balance, had excruciating pain. I am currently 4 weeks post surgery, pain free and on the way to getting my life back. I recommend Sonospine and Dr Ellegala to everyone in need of spinal surgery.
Jun 25, 2019
Great Experience
Dr. Abdulhamid was the first specialist I've met with who unapologetically ordered the imaging I needed for a thorough evaluation and diagnosis. The consultation did not feel rushed and I left feeling confident with a plan going forward and what to expect. I would highly recommend SonoSpine for anyone needing spinal surgery.
Apr 5, 2019
Amazing people that work in that place!
Dr. Mohamed is a kind and intelligent doctor. He explained to me in details what does my MRI indicates and even told me that i wont need any surgeries at this point as im doing better on my own graually! Honest doctor in a time that there aren't so many honest people around! Thank you Dr. Mohamed and may god bless you.
Mar 15, 2019
MRI review and treatment
Dr Ellagala explained in detail what the MRI revealed, the surgical procedure, how it will remove the lower back pain I have been suffering for a long time. Post surgery meal and exercise program that was geared to reduce weight and strengthen muscles in this specific area. We talked of other options including theraphy.
I came away with a clear idea and plan in mind how I can be rid of the nagging back pain that has haunted me.
Their staff iis professional, knowledgeable and friendly. Overall, a very good experience.