3900 E Camelback Rd. Suite 195
Phoenix, AZ 85018

Sonospine Phoenix Arizona is a center of innovation in ultrasonic spinal surgery on the west coast founded by Dr. Dilantha B. Ellegala MD.
Sonospine maintains locations in Virginia, Arizona, and Washington, D.C. All procedures are performed by board-certified and acclaimed surgeons including:
Mohamed Abdulhamid MD
Jim Chadduck MD
World-renowned innovator, Dr. Dilantha B. Ellegala MD, has received wide acclaim across the globe for his revolutionary surgical techniques. He is responsible for developing the Sonospine Sonosculpt procedure, which is both FDA-approved and backed by 22 patent claims. At the Sonospine Phoenix Arizona location, he performs the spinal surgery along with Dr. Mohamed Abdulhamid. The technique, which relies on state-of-the-art ultrasonic technology, is an alternative to invasive spinal surgeries such as spinal fusion and has been declared the future of spinal care.
Spinal fusion poses a number of risks, including (but not limited to):
Spinal fluid leak

Nerve damage

Blood clot formation

Bleeding in excess

Pseudoarthrosis

Infection
Additionally, the typical recovery time for a traditional spinal fusion surgery is 6 months, as opposed to the 6-8 week recovery period most patients experience with Sonosculpt. This means that patients are able to get back to their daily lives and activities faster and with less worry. Sonospine in Phoenix, Arizona offers this cutting-edge procedure to treat:
Herniated discs

Degenerative disc disease

Foraminal stenosis

Bone spurs

Failed back surgery syndrome

Spinal stenosis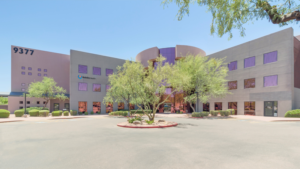 Sonospine Phoenix Arizona offers complimentary MRI reviews to new and prospective patients. The consultation serves to inform interested parties about the Sonosculpt process. Together, Dr. Ellegala, Dr. Abdulhamid and their highly-qualified team of surgery experts evaluate how Sonosculpt can uniquely benefit each potential patient.
To learn more about how Sonospine Sonosculpt can help bring relief to your spinal pain or muscle tissue condition, visit the Sonospine Phoenix Arizona website or give them a call at 888-95-SPINE.
Other Sonospine locations:
Sonospine Washington DC
115 Park Street, SE, Suite 300
Vienna, VA 22180
Sonospine Phoenix Arizona
Average rating:
14 reviews
Dec 19, 2019
Got my life back
Everything went great. Great follow up and a very caring team. I have no more pain or tingling. Can't wait to play golf again. I would highly recommend Dr. Ellegala.
Dec 10, 2019
Very Grateful for Sonospine!!!
I can't begin to tell you how amazing Dr. Ellegala and his staff are, I suffered from a blown disc in my C2/C3, the disc was sitting on my spinal cord. Dr. Ellegala and his team went into action and put 110% of their efforts into getting this issue resolved.

The surgery went far better than either of us expected, Dr. Ellegala's bedside manner was calming and reassuring. I never felt as calm and confident as I did laying on that surgical table. Dr. Ellegala's surgical expertise allowed him to perform the surgery without requiring me to stay in the hospital overnight. I was able to go home the same day and was moving around within 3 days.

Dr. Ellegala, I can't thank you and your staff for everything you have done for me. My family and I are forever grateful for you, Alicia, and the rest of your amazing staff! Thank you for the follow-up phone calls after the surgery to check in on me, and most of all for being readily available when I had questions or needed help.

You are truly appreciated! God bless you!
Dec 4, 2019
Spine surgery
I have been suffering with severe chronic back pain for the last 40 years. Living in Canada I could not get anyone to listen to me about the pain I was having and no one could pin point the problem. I searched many places in the US and got and e-mail from Dr. Anthony Gross who asked many questions about my situation. Dr. Gross wanted more and more information which put me at ease, and I knew this was the right lace to go to. He took the time to investigate and see exactly what was wrong. Once he determined the problem he told me that Dr. Dilntha Ellegala would do the surgery. We met Dr. Ellegala on our first day in Phoenix and he made us feel at ease with his explanations of the problem and how to solve it. I had a cracked vertebrae and need to have 2 pins put in to secure this problem.
Sonospine staff were very professional, kind and extremely attentive to our needs, I cannot thank everyone enough for everything they did.
Dr. Ellegala operated on me 3 weeks ago and the pain I had for 24 hours a day 7 days a week has gone. I only have the pain from the surgery itself. For me this is truly a miracle. I would absolutely recommend Sonospine to anyone who needs help with a back problem. They will make sure they know what the problem, give you the best options and do what is necessary to help you feel better.
My rating for them on a scale of 1 to 10 is without a doubt a 10.
Nov 7, 2019
Dr Ellegala and his Staff Gave me my life back!
I want to thank Dr Ellegala and his staff for giving me my life back. Exactly 1 year ago, i develpped a bulging disk in my neck. I went through 2 PPC, 2 chiropractors, consulted with 2 surgeons and did physical therapy with no relief. The surgeouns made me anxious about surgery. In September, I met Dr Ellegala and instently knew i was in the right place. By this time, the disk herniated and was pressing on my spinal cord. I was loosing dexterity, balance, had excruciating pain. I am currently 4 weeks post surgery, pain free and on the way to getting my life back. I recommend Sonospine and Dr Ellegala to everyone in need of spinal surgery.