Nick Jones is a playwright, screenplay writer and performance artist who brings a zany brand of creativity to his music and plays.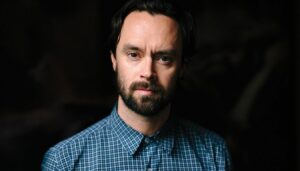 Nick Jones is best known for his work in the performance arts. Energetically involved in all corners of the theater, Jones has taken on the role of playwright, director and performer — sometimes, all at once!  Jones has written a variety of plays that have been smash successes in the world of theater, including Trevor, Verite and The Coward.  His SciFi rock opera puppet-tastic band, Jollyship the Whiz-Bang breathes Jones's zany sense of whimsy and creativity.
Jollyship the Whiz-Bang
Puppets.  Pirates.  Science-Fiction.  And wondrous excitement!  What's not to love about Nick Jones's band, Jollyship and the Whiz-Bang?!  Blending puppeteering, performance and pirate-themed ditties, this project exemplifies the unique stylings of Nick Jones.  Jollyship the Whiz-Bang has performed on numerous stages of the years and released three albums to date.  Albums include Songs to Drown By, It's Not The Moon's Fault and the Curse of The Ancient Legend.
A performance artist himself, Jones's playwriting seamlessly ties together the visual and the imagined.  Playing on period pieces, his plays take on a perspective of humanity and hilarity — two concepts that stand resilient today and yesteryear. The playwright's poignant statements both illicit laughs and send the audience off with something that resonates deeper.  True to theater, Jones's plays ride a full spectrum of emotion-layered entertainment.
Nick Jones has written the following plays (many of which are performed in the current theater circuit):
Trevor 

Verite

The Coward

The Nosemaker's Apprentice: Chronicles of a Medieval Plastic Surgeon

The Sporting Life

Little Building

Straight Up Vampire: The History of Vampires in Colonial Pennsylvania (as Performed to the Music of Paula Abdul)

The Colonists
Certified Consumer Reviews
Average rating:
0 reviews