9377 E. Bell Rd., Suite 343
Scottsdale, AZ 85260

Sonospine Scottsdale Arizona is a center of innovation in ultrasonic spinal surgery on the west coast founded by Dr. Dilantha B. Ellegala MD.
Sonospine maintains locations in Virginia, Arizona, and Washington, D.C. All procedures are performed by board-certified and acclaimed surgeons including:
Mohamed Abdulhamid MD
Jim Chadduck MD
World-renowned innovator, Dr. Dilantha B. Ellegala MD, has received wide acclaim across the globe for his revolutionary surgical techniques. He is responsible for developing the Sonospine Sonosculpt procedure, which is both FDA-approved and backed by 22 patent claims. At the Sonospine Scottsdale Arizona location, he performs the spinal surgery along with Dr. Mohamed Abdulhamid. The technique, which relies on state-of-the-art ultrasonic technology, is an alternative to invasive spinal surgeries such as spinal fusion and has been declared the future of spinal care.
Spinal fusion poses a number of risks, including (but not limited to):
Spinal fluid leak

Nerve damage

Blood clot formation

Bleeding in excess

Pseudoarthrosis

Infection
Additionally, the typical recovery time for a traditional spinal fusion surgery is 6 months, as opposed to the 6-8 week recovery period most patients experience with Sonosculpt. This means that patients are able to get back to their daily lives and activities faster and with less worry. Sonospine in Scottsdale, Arizona offers this cutting-edge procedure to treat:
Herniated discs

Degenerative disc disease

Foraminal stenosis

Bone spurs

Failed back surgery syndrome

Spinal stenosis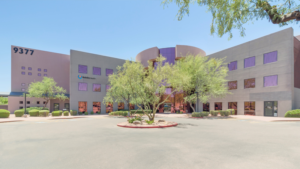 Sonospine Scottsdale Arizona offers complimentary MRI reviews to new and prospective patients. The consultation serves to inform interested parties about the Sonosculpt process. Together, Dr. Ellegala, Dr. Abdulhamid and their highly-qualified team of surgery experts evaluate how Sonosculpt can uniquely benefit each potential patient.
To learn more about how Sonospine Sonosculpt can help bring relief to your spinal pain or muscle tissue condition, visit the Sonospine Scottsdale Arizona website or give them a call at 888-95-SPINE. 
Other Sonospine locations:
Sonospine Washington DC
115 Park Street, SE, Suite 300
Vienna, VA 22180
Certified Consumer Reviews
Average rating:
0 reviews