Dr. Deva Khalsa is a Holistic Veterinarian and author providing a wide range of valuable pet health resources including innovative developments in holistic medicine. She applies her vast knowledge to help and cure her canine and feline patients.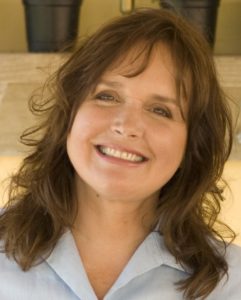 Holistic Veterinarian
Dr. Deva Khalsa, V.M.D., CVA, FBIH, graduated from the University of Pennsylvania School of Veterinary Medicine in 1981. She began studying homeopathy before and during veterinary school, lecturing on Homeopathy and Dermatology as a senior student. She became both a Fellow and a Professor at the British Institute of Homeopathy and was a keynote speaker at the first International Conference of Veterinary Homeopathy at Oxford.
Dr. Khalsa has lectured at numerous veterinary conferences worldwide and has been a guest on many radio and television shows. Her first book, Healing Your Horse, was published in 1999. Dr. Khalsa's Natural Dog book has been published in a 1st and 2nd edition. Her latest book The Allergic Pet, was published by Fox Chapel in 2018.
Pioneerism and Innovation in Holistic Medicine
Dr. Deva Khalsa is a pioneer in the holistic veterinary field. She began practicing as a Holistic Veterinarian in the 1980's, a time when the holistic approach to veterinary science was uncommon. Inspired by holistic medicine for humans, she crafted her own alternative veterinary practices.
She attended various holistic medicine seminars for humans and readjusted the discussed therapies for animal patients. Her approach became recognized by the veterinary science community, leading her to be a Keynote Speaker at the debut International Conference for Homeopathic Veterinarians in Oxford, England.
Dr. Deva Khalsa's reach is international. She offers Professional Consults via telephone to pet owners across the globe. By partnering with the patient's local veterinarian, Dr. Khalsa offers expert advice and facilitates holistic veterinary medicine practices to treat:
Pet allergies
Irritable Bowel Disease
Various types of cancer
Autoimmune diseases
Chronic illnesses
Arthritis
Kidney failure
Tick borne diseases such as Lyme disease
Liver failure
Cushings
Viral diseases in cats including FIP
Dr. Deva Khalsa has developed Allergy Elimination 4 Pets, an effective, safe, non-invasive and drug free method of treating allergies in our dogs and cats in the comfort of their own home. Her alternative protocols include an often- times successful treatment for FIP in cats.
Her holistic veterinary approaches also effectively treat many more ailments.  Her innovative practices offer comfort, relief and results otherwise unattainable by more conventional methods.
Dr. Deva Khalsa's work has been acclaimed by the media. She has been featured in various publications, as well as radio and television programs. In addition to making numerous appearances on major television networks, she has been featured on National Public Radio and Martha Stewart's Veterinary Satellite Radio Show.
Authored Works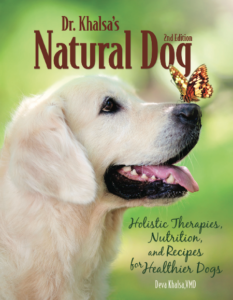 Dr. Deva Khalsa regularly contributes to veterinary science magazines. Dr. Khalsa's articles offer her innovative take on combining the worlds of veterinary science and holistic medicine.  She has been published in:
Dog World
Dogster (formerly Dog Fancy)
Raw Instincts Magazine
Bark
Every Dog
Clean Run
She has also published her own book titled Dr. Khalsa's Natural Dog.  The groundbreaking book, which has been acclaimed by professionals in the veterinary science world, discusses:
Holistic Therapies
Nutrition
Recipes
Dr. Khalsa's Natural Dog strives to educate dog owners about the benefits of holistic veterinary modalities.  Readers have referred to the guide as a "holistic bible for dog owners." Informative, insightful and engaging, the book is a vital resource of information for canine health.
Also be on the look out for her latest book, The Allergic Pet, published in the summer of 2018. The book discusses holistic solutions to end the allergy epidemic in both dogs and cats.
Certified Consumer Reviews
Average rating:
5 reviews
Apr 22, 2019
Professional recognition
Dr Deva is at the top of her profession. She has been on the cutting edge of advance veteranarin medicine long before other Dr's even knew what natural medicine was. She is holistic through and through. Her recognition from the profession is very impressive. That speaks volumes! Dr Cathy, AP
Apr 18, 2019
Thank you for saving HD and Marmalade
It was a miracle Dr. Khalsa saved my Home Depot from FIP. It's been 1 1/2 years since she was cured and now my 15 year old cat sometimes acts like a kitten again. She also cured my cat Marmalade from cancer. He had a cancerous tumor in his mouth and with her help its gone. I will be forever grateful to her for saving my pets. I thank her everyday for the I have with them.
Apr 12, 2019
Duncan is doing great!
I've had Duncan for 9 years and adopted him when he was about 4. That means he would have been about 13 years-old when I found out that his kidneys were failing. He was drinking an awful lot of water and getting pickier about his food so I brought him right in for blood tests. I was told things were not good by my local veterinarian.

I think of Duncan as my soulmate cat and he's my constant companion. I was really upset, I didn't want to lose him.

A friend of mine referred me to Dr. Khalsa and told me she was the best. After sending all the blood tests and medical records to Dr. Khalsa, I had my consult.
Dr. Khalsa reviewed his records in detail and explained things to me so I really understood what was going on. I felt really comfortable working with her.

After one month of the prescribed Rx, I went in for a recheck blood test and Duncan's kidney enzymes were almost normal! Before this, they were two times higher than normal levels. On the next follow up test, Duncan's blood test was well within the normal range.

For the program; Dr. Khalsa had added some nutritional supplements to Duncan's diet and I put a transdermal creme on his ear- which he did not mind at all. Duncan also was given a homeopathic preparation to take twice a day.

Now, Duncan is eating well, playing and feeling awfully good. Dr. Khalsa told me to expect this improvement to last a long time. Needless to say, I am overjoyed.

Beth
Apr 5, 2019
Morris is finally healthy thanks to Dr. Deva
My 4-year old Chocolate Lab had never been right. He'd had on and off bloody diarrhea along with itching and licking since he was the age of about 9 months. Morris had been to 5 different veterinarians, including an internist and a dermatologist. Diet and medication was changed many times but nothing was really working. Apoquel helped with the itching but his diarrhea stayed pretty much the same. Then I read the article Dr. Khalsa wrote for Dog's Naturally magazine on the web explaining how Apoquel really worked. After reading how Apoquel worked I wanted Morris off of that drug ASAP. I researched Dr. Khalsa and read many of her articles and contacted her for a consultation. After speaking to her, I felt I finally understood what was happening with Morris. Dr. Khalsa prescribed some homeopathic remedies and an herbal detox along with the Allergy Elimination 4 Pets program, which I did all at home. The program took less than 2 months and the results amazed me. After Morris had problems for over 75 % of his life, he was now a healthy dog who did not itch and had normal poops! It's been one year since she treated Morris and he is doing great. I just called Dr. Khalsa for a check-up consult just to go over what he really needs as far as vaccines and flea/tick prevention so that he stays healthy. Morris also had a mild ear infection and her advice cleared it up quickly and now I know exactly what to do if it ever happens again.

Margie
Mar 7, 2019
Our Experience Working with Dr. Khalsa
Our experience in working with Dr. Khalsa started with our Miniature Dachshund, Star, four years ago. Star was diagnosed with Lymphoma and had been given Chemotherapy for eight months. We were told by our Oncologist that Star would not go into remission and they had done all they could for her. I started looking for alternative treatments for Star's Lymphoma and read an article in Dogs Naturally Magazine that Dr. Khalsa wrote regarding a Labrador Retriever that she treated for another disease. That article intrigued our family so I set up our first phone consultation with Dr. Khalsa. Star is thirteen years old now and we believe that Dr. Khalsa is primarily responsible for her prolonged life. Star plays fetch and acts like she is much younger than she is.

Since we had such great success with Star and Dr. Khalsa's Holistic approach to her wellbeing, we have consulted with Dr. Khalsa regarding some of our other dogs, with similar positive results. Dr. Khalsa and our local vet work together through me using both Holistic and Western Veterinary medicine. My family trusts Dr. Khalsa to guide us through the best treatment for our dogs; recommending only the necessary test for a proper diagnosis and treatment using Holistic Remedies, Chinese herbs, and Western Medicine.

Dr. Khalsa's perspective has changed the overall health of our dogs. We have also saved money by following her advice and not using unnecessary treatments, products, or tests on our family pets. More importantly, by using the healthiest alternatives to protect and treat our dogs, with Dr. Khalsa's guidance, we feel that they have the best chance for healthy and happy lives.

Sincerely,

Teresa