Dr. Deva Khalsa is a Holistic Veterinarian and author providing a wide range of valuable pet health resources including innovative developments in holistic medicine. She applies her vast knowledge to help and cure her canine and feline patients.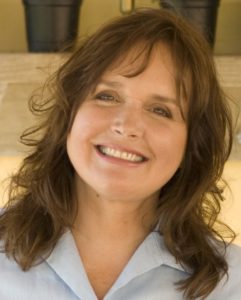 Holistic Veterinarian
Dr. Deva Khalsa, V.M.D., CVA, FBIH, graduated from the University of Pennsylvania School of Veterinary Medicine in 1981. She began studying homeopathy before and during veterinary school, lecturing on Homeopathy and Dermatology as a senior student. She became both a Fellow and a Professor at the British Institute of Homeopathy and was a keynote speaker at the first International Conference of Veterinary Homeopathy at Oxford.
Dr. Khalsa has lectured at numerous veterinary conferences worldwide and has been a guest on many radio and television shows. Her first book, Healing Your Horse, was published in 1999. Dr. Khalsa's Natural Dog book has been published in a 1st and 2nd edition. Her latest book The Allergic Pet, was published by Fox Chapel in 2018.
Pioneerism and Innovation in Holistic Medicine
Dr. Deva Khalsa is a pioneer in the holistic veterinary field. She began practicing as a Holistic Veterinarian in the 1980's, a time when the holistic approach to veterinary science was uncommon. Inspired by holistic medicine for humans, she crafted her own alternative veterinary practices.
She attended various holistic medicine seminars for humans and readjusted the discussed therapies for animal patients. Her approach became recognized by the veterinary science community, leading her to be a Keynote Speaker at the debut International Conference for Homeopathic Veterinarians in Oxford, England.
Dr. Deva Khalsa's reach is international. She offers Professional Consults via telephone to pet owners across the globe. By partnering with the patient's local veterinarian, Dr. Khalsa offers expert advice and facilitates holistic veterinary medicine practices to treat:
Pet allergies
Irritable Bowel Disease
Various types of cancer
Autoimmune diseases
Chronic illnesses
Arthritis
Kidney failure
Tick borne diseases such as Lyme disease
Liver failure
Cushings
Viral diseases in cats including FIP
Dr. Deva Khalsa has developed Allergy Elimination 4 Pets, an effective, safe, non-invasive and drug free method of treating allergies in our dogs and cats in the comfort of their own home. Her alternative protocols include an often- times successful treatment for FIP in cats.
Her holistic veterinary approaches also effectively treat many more ailments.  Her innovative practices offer comfort, relief and results otherwise unattainable by more conventional methods.
Dr. Deva Khalsa's work has been acclaimed by the media. She has been featured in various publications, as well as radio and television programs. In addition to making numerous appearances on major television networks, she has been featured on National Public Radio and Martha Stewart's Veterinary Satellite Radio Show.
Authored Works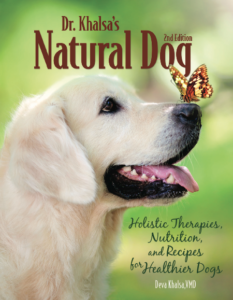 Dr. Deva Khalsa regularly contributes to veterinary science magazines. Dr. Khalsa's articles offer her innovative take on combining the worlds of veterinary science and holistic medicine.  She has been published in:
Dog World
Dogster (formerly Dog Fancy)
Raw Instincts Magazine
Bark
Every Dog
Clean Run
She has also published her own book titled Dr. Khalsa's Natural Dog.  The groundbreaking book, which has been acclaimed by professionals in the veterinary science world, discusses:
Holistic Therapies
Nutrition
Recipes
Dr. Khalsa's Natural Dog strives to educate dog owners about the benefits of holistic veterinary modalities.  Readers have referred to the guide as a "holistic bible for dog owners." Informative, insightful and engaging, the book is a vital resource of information for canine health.
Also be on the look out for her latest book, The Allergic Pet, published in the summer of 2018. The book discusses holistic solutions to end the allergy epidemic in both dogs and cats.
Certified Consumer Reviews
Average rating:
13 reviews
Jul 1, 2019
non-invasive treatment my cat loved
About 3 months ago, my boy Ziggy showed up with a crusty patch with hair loss about the size of a quarter on his lower back near his tail. He was doing a lot of licking and scratching. I belong to a cat health group on Yahoo, so I posted my findings and asked for advice. It was suggested that he may have an allergy and I was told that a treatment called Allergy Elimination 4 Pets could clear up allergies. I was told that this procedure had helped many cats on the list and so I decided to call the recommended vet and give it a try.

I requested a phone consultation with Dr. Deva Khalsa. She asked a number of questions and determined that indeed it probably was an allergy. I asked how he could sprout an allergy after years of eating a diet which included raw turkey twice a day and a variety of other raw rotation foods. She explained that allergies are a result of the immune system reacting to eating the same thing day after day over a period of time and that vaccines are an important component in the creating of allergies.

Dr. Deva tested Ziggy with a form of energy medicine and determined that he had a number of allergies. She explained how to do the Allergy Elimination Treatment which is a more sophisticated form of the N.A.E.T. treatment specially created for cats and dogs and provided me with vials of allergens and a schedule for treatments. Happily, the treatment is non-invasive and my cat loved the treatments so much that he came running to me when I called for him to receive his treatment.

By the time the round of treatments was complete, his coat was beautiful, thick, soft and shiny. He looked and acted healthy; he quit the intense licking and scratching. Dr. Deva tested my boy post treatments and determined that two allergies weren't cleared and so gave me instructions to finish off the last two stubborn offenders.

The second round of treatments is now over and my boy Ziggy is tested to be free of allergies; looking and acting like a handsome, healthy, strong, confident feline, thanks to Dr. Deva.

Thank you, Dr. Deva

Martha and Ziggy
Jun 21, 2019
Paraplegic Cat Is On The Move!
Our admiration for Dr Khalsa began several years ago when we brought her on board to help us with our epileptic Pug, LuLu. Dr Khalsa tirelessly helped us through LuLu's condition, and single-handedly pulled LuLu out of complete liver failure – much to the astonishment of LuLu's local team of veterinarians.

We again called Dr Khalsa to come on board for a kitten we adopted last year. Our kitty, Venus, was saved by a local rescue group from a hoarder situation, where she was stepped on by the homeowner and suffered a broken back and traumatic spine injury that made her a paraplegic. We did acupuncture treatments for Venus and did home physical therapy which had a measure of success, but there was still an extreme weakness in Venus' hindquarters and she tended to flop over on her hips and drag her hind legs behind her.

We knew that if anyone could help Venus, it was Dr Khalsa. And sure enough, Dr Khalsa came to the rescue. She recommended that we do stem cell therapy for Venus. We were excited to give this a try, having read how stem cell therapy is seeing success with spinal cord injuries. Venus' stem cell therapy lasted for one month, but we saw improvement in her strength and coordination within the first two weeks! And although the treatment has been finished for a few weeks now, we are seeing continued improvement in Venus. Unbelievably, Venus is now able to jump up AND down off of our couch and is landing her jump off with all four feet strongly and squarely hitting the ground. We are in amazement at how great our kitty is doing! It is truly like a miracle.

Venus is happy and playful and active, and is choosing to stand up and walk and run rather than simply flop over and drag herself around. Thank you with all our hearts, Dr Khalsa, for never giving up, thinking outside the box, and for giving your all to animals and the people who love them.
Jun 14, 2019
Healing IVDD
Dr. Khalsa's profound wisdom and expert, intuitive care healed my sweet terrier Brady who was screaming in pain from slipped discs. We had been traumatized from a harrowing, extremely expensive and ultimately unnecessary path with an emergency vet/neurologist. Dr. Khalsa so quickly and efficiently informed and reassured me with some simple recommendations and Brady is enjoying a spectacular recovery. I can't imagine what we would've done if we hadn't found Dr. Khalsa. We're both healing thanks to her incredible care. I can never express the depth of my gratitude!
Jun 10, 2019
Scarecrow 's recovery
My boy Scarecrow is a 11 yr old Shih tzu. We have been dealing with allergies for many years. We have tried steriods, antibiotics, different types of foods nothing seemed to really make him better.

About 7 years ago, after doing my own research with allergies I decided to stop vaccinating and try natural remedies instead, I gave him immune support supplements he slowly started to get better but it was not enough to stop me for looking for better remedies for his condition. I knew, I needed to find someone who had the knowledge and experience to get his health and allergies under control. I scheduled a phone consult with Dr Khalsa, we started allergy elimination for pets and here we are today about half way through Scarecrow is scratching and licking less, his bald spots are growing hair back, he has packed on some weight, more active and happy.

I would have never thought we would be where we are today in two short months into our treatment plan.

Looking forward to seeing more and more positive improvements.
This is the first SPRING we are not consistently bathing, chewing and licking.
WE are eternally grateful for Dr Khalsa's advice and guidance.
Jun 4, 2019
Saving my animals for many many years!
Dr. Khalsa has been caring for and saving the lives of the many animals who I have shared my life with. She became a part of our lives many years ago when one of my rescued canines, Frank, had unexplainable seizures. Having heard of Dr.Khalsa and her work, I travelled from New York to Pennsylvania to seek her help with Frank. In a matter of one visit not only did she diagnose his seizures but she began treatment that would allow him to live for the next 10 years almost seizure free. Throughout the years I have presented Dr. Khalsa with some of the most complex, terminal, and unanswerable issues and she has always been my beacon of hope. She is one of THE most brilliant doctors that I have ever met - in both human and veterinary medicine. When she relocated her practice to Florida (and then New Zealand) I continued to seek her care via teleconferences and email with virtually no difference. I cannot thank her enough for all the support and care she has been over the many years and will continue to rely on her expertise for any and all animals in my care.
May 23, 2019
Dr. Khalsa has been invaluable for the past 9 years
Dr. Khalsa has been the vet I consult with for my pets healthcare for at least 9 years now. I'm a chemical engineer who has a ton of questions and won't accept anything but the best for my pets. During this time, I have found that Dr. Khalsa is an innovative and relentless healthcare provider whose compassionate equals her veterinary expertise - and who truly "gets" the love between a human and their fur babies.

Here are 3 instances of how Dr. Khalsa has greatly helped the health and well-being of my pets:

1) She first helped me when my 11 year old golden retriever, Murphy Brown, was diagnosed with hemangiosarcoma and I decided chemo degraded her quality of life too much. Dr. Khalsa addressed her cancer by boosting her immune system through supplements, diet and various holistic remedies and Chinese herbs. Murphy ended up having as much energy as she did when she was a puppy and was able to swim about an hour each day until the last couple weeks of her life. We were both in tears the day I had to help my Murphy pass.
2) Upon getting another golden puppy, Macy Gray, I consulted with Dr. Khalsa before I even picked up Macy to ensure I did what was necessary to provide the best health for my new baby. Dr. Khalsa made sure I was feeding and supplementing Macy to best support her immune system and minimizing unnecessary vaccinations to help minimize her chances of cancer. Any questions I had, Dr. Khalsa was there to provide an answer - and a thorough explanation about why she chose that approach.
3) Dr. Khalsa has also helped my parents' 13 year old dog, Livie, with her battle against an autoimmune condition, pemphigus foliaceus (PF) for the past 2-3 years. Conventional vets would have prescribed heavy dosages of steroids what would have eroded her immune system (and allow cancer run rampant) but Dr. Khalsa knows the best approach is not necessarily the easy or quick fix. Instead, she recommended heavy metal detoxification, stem cell therapy and Chinese herbs that have helped tremendously.

In summary, I believe Dr. Khalsa has helped me provide the best possible care to my pets – I only wish I could find someone I trust as much for my own health as I do Dr. Khalsa for my pets' health.
May 13, 2019
Allergies and itching GONE
Allergies are gone! After years of veterinary visits Gus is finally free of allergies and is healthy. I don't have to change foods and get into novel proteins. I don't need to medicate all the time. After 4 years of watching over Gus like a hawk ,I can finally relax. He's become a normal healthy and much more playful dog. He has not been this good since I adopted him from the SPCA 4 years ago. We are both very happy and grateful to Dr. Khalsa and her work..
May 6, 2019
Dr. Khalsa - Extraordinary Skills
I've known Dr. Khalsa for quite a few years. She has the largest repertoire of healing methods of any vet I know. In many cases where a conventional vet will say "Nothing can be done" she will offer numerous options. She adapts to whatever the situation calls for. I once rushed my dog to a vet when he had accidentally eaten poison. The vet said it was too late to help and we should just make him comfortable. I took that dog to Dr. Khalsa. She gave him the homeopathic remedy Gelsemium, then an IV of vitamin C, then she did acupuncture on his liver points. My beautiful dog recovered the same day and we had many more years. I've been a practicing homeopath for 30 years and have the highest regard for Dr. Khalsa.
Apr 22, 2019
Professional recognition
Dr Deva is at the top of her profession. She has been on the cutting edge of advance veteranarin medicine long before other Dr's even knew what natural medicine was. She is holistic through and through. Her recognition from the profession is very impressive. That speaks volumes! Dr Cathy, AP
Apr 18, 2019
Thank you for saving HD and Marmalade
It was a miracle Dr. Khalsa saved my Home Depot from FIP. It's been 1 1/2 years since she was cured and now my 15 year old cat sometimes acts like a kitten again. She also cured my cat Marmalade from cancer. He had a cancerous tumor in his mouth and with her help its gone. I will be forever grateful to her for saving my pets. I thank her everyday for the I have with them.