Dr. Deva Khalsa is a Holistic Veterinarian and author providing a wide range of valuable pet health resources including innovative developments in holistic medicine. She applies her vast knowledge to help and cure her canine and feline patients.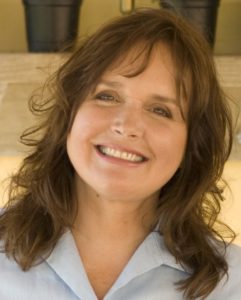 Holistic Veterinarian
Dr. Deva Khalsa, V.M.D., CVA, FBIH, graduated from the University of Pennsylvania School of Veterinary Medicine in 1981. She began studying homeopathy before and during veterinary school, lecturing on Homeopathy and Dermatology as a senior student. She became both a Fellow and a Professor at the British Institute of Homeopathy and was a keynote speaker at the first International Conference of Veterinary Homeopathy at Oxford.
Dr. Khalsa has lectured at numerous veterinary conferences worldwide and has been a guest on many radio and television shows. Her first book, Healing Your Horse, was published in 1999. Dr. Khalsa's Natural Dog book has been published in a 1st and 2nd edition. Her latest book The Allergic Pet, was published by Fox Chapel in 2018.
Pioneerism and Innovation in Holistic Medicine
A pioneer in the holistic veterinary field, She began practicing as a Holistic Veterinarian in the 1980's, a time when the holistic approach to veterinary science was uncommon. Inspired by holistic medicine for humans, she crafted her own alternative veterinary practices.
She attended various holistic medicine seminars for humans and readjusted the discussed therapies for animal patients. Her approach became recognized by the veterinary science community, leading her to be a Keynote Speaker at the debut International Conference for Homeopathic Veterinarians in Oxford, England.
Dr. Deva Khalsa's reach is international. She offers Professional Consults via telephone to pet owners across the globe. By partnering with the patient's local veterinarian, Dr. Khalsa offers expert advice and facilitates holistic veterinary medicine practices to treat:
Pet allergies
Irritable Bowel Disease
Various types of cancer
Autoimmune diseases
Chronic illnesses
Arthritis
Kidney failure
Tick borne diseases such as Lyme disease
Liver failure
Cushings
Viral diseases in cats including FIP
Dr. Deva Khalsa has developed Allergy Elimination 4 Pets, an effective, safe, non-invasive and drug free method of treating allergies in our dogs and cats in the comfort of their own home. Her alternative protocols include an often- times successful treatment for FIP in cats.
Her holistic veterinary approaches also effectively treat many more ailments. Her innovative practices offer comfort, relief and results otherwise unattainable by more conventional methods.
Dr. Deva Khalsa's work has been acclaimed by the media. She has been featured in various publications, as well as radio and television programs. In addition to making numerous appearances on major television networks, she has been featured on National Public Radio and Martha Stewart's Veterinary Satellite Radio Show.
Authored Works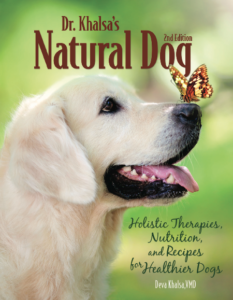 Dr. Deva Khalsa regularly contributes to veterinary science magazines. Dr. Khalsa's articles offer her innovative take on combining the worlds of veterinary science and holistic medicine. She has been published in:
Dog World
Dogster (formerly Dog Fancy)
Raw Instincts Magazine
Bark
Every Dog
Clean Run
She has also published her own book titled Dr. Khalsa's Natural Dog. The groundbreaking book, which has been acclaimed by professionals in the veterinary science world, discusses:
Holistic Therapies
Nutrition
Recipes
Dr. Khalsa's Natural Dog strives to educate dog owners about the benefits of holistic veterinary modalities. Readers have referred to the guide as a "holistic bible for dog owners." Informative, insightful and engaging, the book is a vital resource of information for canine health.
Also be on the look out for her latest book, The Allergic Pet, published in the summer of 2018. The book discusses holistic solutions to end the allergy epidemic in both dogs and cats.
Dr. Deva Khalsa
Average rating:
20 reviews
Jun 21, 2021
Magical Dr. Deva and Formula 9
My beloved kitty, Bartelby, had labored breathing last fall and after a consultation with Dr. Deva, we started the Formula 9 stem cell injections with the goal of reversing an issue with his lung and boosting his immune system. While the actual process of getting him the injections was very trying, ultimately they worked their magic! My B is full of zest with a renewed passion for life and up to his old tricks after only 6 months from the last injection. Last week, he had an X-ray and bloodwork to compare to last November and the spot on the chest x-ray had vanished, his white cells were in the normal range! We are all so happy that B, now 5, is thriving!

We highly recommend Dr. Deva for her vast knowledge, genuine care, honest point of view and efficiency. While we have local vets for the testing/etc., Dr. Deva we consider Dr. Deva our primary vet and value her expertise beyond words.

Thank you so much, Dr. Deva!
Mar 12, 2021
So pleased!
Have been using Dr. Khalsa for a couple of years now. Regardless of the problem that our three dogs encounter, allergies, incontience, bladder & eye problems and more, she had the correct solution - every time - the FIRST time!

The most significant of her successes is the treatment of our female Bassett's bout with cancer. The local vet operated and removed the tumor, but gave her 6 to 12 months to live.
Followed Dr. Khalsa's recommendation for immunotheraphy and its been three years plus, and she is doing great.
Can't recommend her enough!!
Feb 6, 2021
Life battling with allergy is gone!
Started working with Dr. Khalsa in August 2019 for my dog who was srtuggling with severe allergy for over 8 years. Walle had horrible crusty, very itchy spots all over his body. We tried everything possible and Walle`s allergy improved a lot but was still there. Then in July 2020 Dr. Khalsa prescribed Formula 9 injections. Nothing happened after Walle had it. In fact his skin cindition worsended within a month. But then, two months later, a TRUE MIRACLE happened: his skin started clearing out and within about a week his skin became COMPLETELY clean! No more awful crusty spots, his skin was clean as when he was a puppy! Its been five months, his skin is still clean. You can not imagine how happy I am because I spent so much time and money for different treatments through 8 years! It is such a releif and I am so thankful to Dr. Khalsa for making my doggie`s and my life free of constant allergy battle! We are enjoying our lives again.
Sep 1, 2020
Chronic ehrlichia dog now 100% healthy - miracle
We found a dog while on vaca in Puerto Rico Dec 2019. . She was diagnosed with ehrlichia by a veg there. We assumed we'd bring her home with antibiotics and she'd be fine but she continued to worsen. After being home in the US for 2 months- her CBC # had gone from 20 to 10. She had NO red blood cells. After 2 months of steroids. and antibiotics and a cost of about $2,000, the vets at emergency care told us they could do nothing more. She had chronic ehrlichia and would die at any moment. It was a waiting game.
I researched tirelessly on the internet and Dr. Khalsa's name kept coming up. I contacted her on a whim and she answered my email within 24 hours. After just 7 days on Dr K's treatment, ((which cost a fraction of what we had already spent with specialists who could do nothing), our dog's CBC went up to 20. It's been 6 months and our dog's bloodwork just came back completely normal. Dr. K.did the impossible for us and saved our dog from an 'incurable,' chronic disease. If any of our story sounds familiar, don't hesitate.... Dr.K is unique and absolutely knows what she's doing.
Page 1 of 5:
«
‹
1
2
3
4
5
›
»