Dr. Deva Khalsa is a Holistic Veterinarian and author providing a wide range of valuable pet health resources including innovative developments in holistic medicine. She applies her vast knowledge to help and cure her canine and feline patients.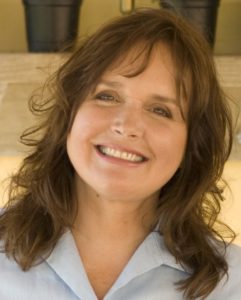 Holistic Veterinarian
Dr. Deva Khalsa, V.M.D., CVA, FBIH, graduated from the University of Pennsylvania School of Veterinary Medicine in 1981. She began studying homeopathy before and during veterinary school, lecturing on Homeopathy and Dermatology as a senior student. She became both a Fellow and a Professor at the British Institute of Homeopathy and was a keynote speaker at the first International Conference of Veterinary Homeopathy at Oxford.
Dr. Khalsa has lectured at numerous veterinary conferences worldwide and has been a guest on many radio and television shows. Her first book, Healing Your Horse, was published in 1999. Dr. Khalsa's Natural Dog book has been published in a 1st and 2nd edition. Her latest book The Allergic Pet, was published by Fox Chapel in 2018.
Pioneerism and Innovation in Holistic Medicine
A pioneer in the holistic veterinary field, She began practicing as a Holistic Veterinarian in the 1980's, a time when the holistic approach to veterinary science was uncommon. Inspired by holistic medicine for humans, she crafted her own alternative veterinary practices.
She attended various holistic medicine seminars for humans and readjusted the discussed therapies for animal patients. Her approach became recognized by the veterinary science community, leading her to be a Keynote Speaker at the debut International Conference for Homeopathic Veterinarians in Oxford, England.
Dr. Deva Khalsa's reach is international. She offers Professional Consults via telephone to pet owners across the globe. By partnering with the patient's local veterinarian, Dr. Khalsa offers expert advice and facilitates holistic veterinary medicine practices to treat:
Pet allergies
Irritable Bowel Disease
Various types of cancer
Autoimmune diseases
Chronic illnesses
Arthritis
Kidney failure
Tick borne diseases such as Lyme disease
Liver failure
Cushings
Viral diseases in cats including FIP
Dr. Deva Khalsa has developed Allergy Elimination 4 Pets, an effective, safe, non-invasive and drug free method of treating allergies in our dogs and cats in the comfort of their own home. Her alternative protocols include an often- times successful treatment for FIP in cats.
Her holistic veterinary approaches also effectively treat many more ailments. Her innovative practices offer comfort, relief and results otherwise unattainable by more conventional methods.
Dr. Deva Khalsa's work has been acclaimed by the media. She has been featured in various publications, as well as radio and television programs. In addition to making numerous appearances on major television networks, she has been featured on National Public Radio and Martha Stewart's Veterinary Satellite Radio Show.
Authored Works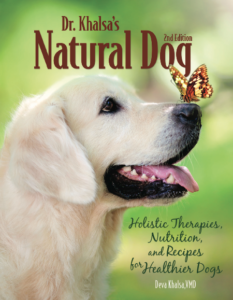 Dr. Deva Khalsa regularly contributes to veterinary science magazines. Dr. Khalsa's articles offer her innovative take on combining the worlds of veterinary science and holistic medicine. She has been published in:
Dog World
Dogster (formerly Dog Fancy)
Raw Instincts Magazine
Bark
Every Dog
Clean Run
She has also published her own book titled Dr. Khalsa's Natural Dog. The groundbreaking book, which has been acclaimed by professionals in the veterinary science world, discusses:
Holistic Therapies
Nutrition
Recipes
Dr. Khalsa's Natural Dog strives to educate dog owners about the benefits of holistic veterinary modalities. Readers have referred to the guide as a "holistic bible for dog owners." Informative, insightful and engaging, the book is a vital resource of information for canine health.
Also be on the look out for her latest book, The Allergic Pet, published in the summer of 2018. The book discusses holistic solutions to end the allergy epidemic in both dogs and cats.
Dr. Deva Khalsa
Average rating:
15 reviews
Oct 17, 2019
Allergy Elimination in 4 Pets Treatments
Ardi did really well on the Allergy Elimination 4 Pets treatment! Overall, I've never seen him as playful and peppy as he is currently. Ardi continues to surprise us with things he will do that before I would never imagine him doing, such as interacting with other dogs, enjoying long walks, and being more playful and engaging. His energy level is so much better. We noticed this spring, summer, and fall that he had significantly fewer reactions to things in the environment and they were manageable rather than completely out of control. No extremely raw skin or severe redness, just a little itchy at times but nothing like in the past. Acupuncture and chiropractic have been a great support as well. Nate and I are both very pleased with where he's at and definitely think the treatments were a HUGE benefit to his health. I don't think we would be where we are at today without them.
Sep 19, 2019
Life saver
My name is Wendy and I am sharing my experience so I can give others hope.
I rescued a kitten we called Teddy. Teddy is currently 17 months old. Unfortunately, Teddy has been sickly since he's 12 weeks old. The first illness at 12 weeks presented with lethargy and a high fever which required an emergency vet visit. Upon arrival they examined and x-rayed Teddy, and found sediment in his colon which they told me was possibly litter. He got fluids and antibiotics and his fever resolved and upon re-x-ray The sediment was gone.

Since that time Teddy had been sick. He constantly had loose stool, Partially formed sometimes mushy sometimes with blood. He's had high fevers and lethargy with a greasy coat. He had the energy of an old cat not a kitten. Spending a lot of his time sleeping. When his brother Kitty Who's the same age would try to get him to play Teddy would just decline and curl up in a ball. It was sad.
He spent his first year going to the vet every 3 to 4 months with these episodes. He could run a fever of 105, and his white cell count is at its highest was at 60,000.
They retested him for all the major cat diseases and he also had extensive studies on stool and urine, with all his tests coming back negative. He would stay hospitalized on IV fluids and antibiotics for 3 to 5 days.
He's been Prescribed Clavamox, Amoxicillin, and Veraflox, with these treatments his fever will subside and he would be sent home with no clear answers. He would be good for a few months meaning no fevers and a bit more energy and then sick again.
It was noted that during his last episode and round of testing he showed low thyroid function which they explained indicated an early sign his system was declining.
My vet felt it may be FIP or a form of cancer, or Some type of immune problem which they did
not know how to treat or cure other than steroids and palliative care.
They informed me that I should be prepared that Teddy world not live very long.
Doing my own research online I was lucky enough to come across a post by someone who said they had a cat with FIP who was successfully treated by a doctor named Deva Khalsa. I thought to myself I have nothing to lose, so I did some research on her and I only saw positive reviews. Plus, I watched her videos and read some of her articles, I felt she was highly credible so I contacted her. At that first phone call I felt very hopeless, however, I will tell you that Dr.Khalsa was warm, down to earth, hopeful and very caring. She laid out a treatment plan for Teddy that made sense to me and we began treatment.
She put him on stem cell treatments which required injections. I'm a nurse but I've never injected a cat before it was a bit challenging. I will tell you Teddy did not like the injections. When I first started them he seem to get worse, more-lethargic and decreased or poor appetite and I think he found the injections painful which may have been more on the technique or lack of. I went back to Dr. Khelsa feeling defeated, she supported and guided me through, changing the treatment plan a bit and we persisted.
Teddy had a total of 15 shots inside 30 days. We broke the shots up into every second or third day which Teddy tolerated better. We completed the treatment plan.
I will tell you that I've never seen my cat healthier. He has incredible energy, He acts like the kitten he is. Jumping and running around with his brother kitty like an acrobat. His stools are normal For the first time in his life. He has a great appetite and looks beautiful. I can't express how happy it makes me to see this little guy well.
It's been over a month since his last injection and three months since his last hospitalization. I feel strongly that we saved Teddy's life.
I am so grateful to Dr. Khalsa. She had hope and a plan for me when my own vets with whom I spent thousands of dollars had no clue. I can't recommend Dr Deva Khalsa enough.
Jul 1, 2019
non-invasive treatment my cat loved
About 3 months ago, my boy Ziggy showed up with a crusty patch with hair loss about the size of a quarter on his lower back near his tail. He was doing a lot of licking and scratching. I belong to a cat health group on Yahoo, so I posted my findings and asked for advice. It was suggested that he may have an allergy and I was told that a treatment called Allergy Elimination 4 Pets could clear up allergies. I was told that this procedure had helped many cats on the list and so I decided to call the recommended vet and give it a try.

I requested a phone consultation with Dr. Deva Khalsa. She asked a number of questions and determined that indeed it probably was an allergy. I asked how he could sprout an allergy after years of eating a diet which included raw turkey twice a day and a variety of other raw rotation foods. She explained that allergies are a result of the immune system reacting to eating the same thing day after day over a period of time and that vaccines are an important component in the creating of allergies.

Dr. Deva tested Ziggy with a form of energy medicine and determined that he had a number of allergies. She explained how to do the Allergy Elimination Treatment which is a more sophisticated form of the N.A.E.T. treatment specially created for cats and dogs and provided me with vials of allergens and a schedule for treatments. Happily, the treatment is non-invasive and my cat loved the treatments so much that he came running to me when I called for him to receive his treatment.

By the time the round of treatments was complete, his coat was beautiful, thick, soft and shiny. He looked and acted healthy; he quit the intense licking and scratching. Dr. Deva tested my boy post treatments and determined that two allergies weren't cleared and so gave me instructions to finish off the last two stubborn offenders.

The second round of treatments is now over and my boy Ziggy is tested to be free of allergies; looking and acting like a handsome, healthy, strong, confident feline, thanks to Dr. Deva.

Thank you, Dr. Deva

Martha and Ziggy
Jun 21, 2019
Paraplegic Cat Is On The Move!
Our admiration for Dr Khalsa began several years ago when we brought her on board to help us with our epileptic Pug, LuLu. Dr Khalsa tirelessly helped us through LuLu's condition, and single-handedly pulled LuLu out of complete liver failure – much to the astonishment of LuLu's local team of veterinarians.

We again called Dr Khalsa to come on board for a kitten we adopted last year. Our kitty, Venus, was saved by a local rescue group from a hoarder situation, where she was stepped on by the homeowner and suffered a broken back and traumatic spine injury that made her a paraplegic. We did acupuncture treatments for Venus and did home physical therapy which had a measure of success, but there was still an extreme weakness in Venus' hindquarters and she tended to flop over on her hips and drag her hind legs behind her.

We knew that if anyone could help Venus, it was Dr Khalsa. And sure enough, Dr Khalsa came to the rescue. She recommended that we do stem cell therapy for Venus. We were excited to give this a try, having read how stem cell therapy is seeing success with spinal cord injuries. Venus' stem cell therapy lasted for one month, but we saw improvement in her strength and coordination within the first two weeks! And although the treatment has been finished for a few weeks now, we are seeing continued improvement in Venus. Unbelievably, Venus is now able to jump up AND down off of our couch and is landing her jump off with all four feet strongly and squarely hitting the ground. We are in amazement at how great our kitty is doing! It is truly like a miracle.

Venus is happy and playful and active, and is choosing to stand up and walk and run rather than simply flop over and drag herself around. Thank you with all our hearts, Dr Khalsa, for never giving up, thinking outside the box, and for giving your all to animals and the people who love them.