Yahya Bakkar is an investor, advisor and consultant who educates and empowers his clients to protect and transform their family legacy.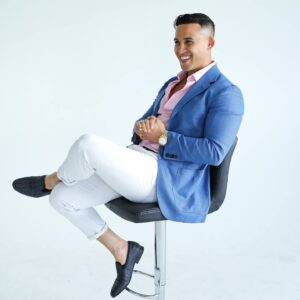 Your Wealth Group
What started out as a passion project has now turned into a purpose-driven mission to help other leaders build generational wealth and heal generational wounds. Yahya Bakkar is the Founder & CEO of Your Wealth Group, which is a private wealth consulting firm with an alternative approach to transform a family's legacy.
Your Wealth Group provides business leaders and affluent families a proven and private approach to protect their wealth and transfer their wisdom to the next generation. The team of professionals at Your Wealth Group have over 40 years of experience and are committed to helping their private clients think outside of the box and lead with their hearts in mind when it comes to financial and family matters. That's why Your Wealth Group offers custom services in a manner that truly sets them apart from most financial firms who just focus on the numbers. Business, estate and family matters can get very complex without addressing the family dynamics that usually get in the way when it comes to succession planning. Your Wealth Group develops a holistic approach to transfer a family's wealth and wisdom to ultimately transform their legacy and dynasty.
Certified Consumer Reviews
Average rating:
5 reviews
Jan 20, 2022
Yahya has earned my Trust & Business
Yahya has directly supported me in building a financial wall around myself and my family. He's taken time to educate me on every step so that I can be ultra informed throughout this process. I am the first person in my family line to take many of these steps, & am ultimately transforming the future generations to come. Thank you Yahya for showing you care through your actions, not just your words. Thank you for and taking the time to guide me & others on this journey. Your knowledge, expertise, and delivery is unmatched. Looking forward to doing lifelong business together.
Jan 10, 2022
Consistent, wise, and relevant.
Yahya has the unique blend of boundless energy in the moment, and timeless perspective around the future. I have worked with Yahya in a few different capacities and highly recommend him to engage with you and your business. Expect fresh insights as you work with him and 5-stars is gladly given to Mr. Bakkar. Honing in your wealth creation strategy while aligning your business and personal goals is his specialty!
Dec 27, 2021
Yahya is genuinely the real deal.
I've known Yahya for about 20 years. He is my cousin's husband. Since I was about 10 years old, I have always looked up to Yahya as a leader, friend, brother & role model.

Yahya has always paved his own unique path. He is unapologetic about his interests and desires and always pursues them regardless of the status quo.

Yahya has a rare light that you don't see to often in people, but when you interact with him, it is obvious and contagious. His bright personality, eye contact, smile, active listening ability & intelligence are all very apparent. I think overall he is just extremely engaging.

He doesn't just talk the talk, but he lives Yahya's way by sticking to his values and belief system. This is validated by his relationship with his wife and his three beautiful children. It is validated by the success that he has had in whatever venture he has pursued.

Another point is that Yahya is educated in the topics he speaks on. Knowing Yahya for as long as I have, I can personally vouch that he has done the research and is credible in the topics he covers.

If you are in a place where you need a mentor, a coach, an advocate - Yahya is the person for you.
Dec 7, 2021
Excellence to the highest degree
Being Yahya Bakkar's client was one of the best decisions I ever made. It was truly life changing on so many levels. Not only do you get inspired by him but he motivates you to be the best version of you. He makes you feel safe and more importantly, you can completely trust him. He will give you the tools, the directions, the support and the rest is up to you on where your life will head. He was able to help me semi-retire at the age of 52 and I was able to say good-bye to the corporate world after 30 years. He is truly one of kind and he genuinely cares about his clients. Trust me when I say that you will not meet anyone like him. I am so blessed that I had the opportunity to work with him.