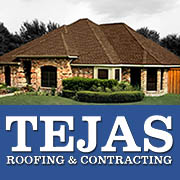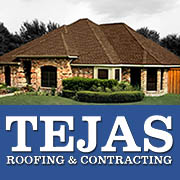 Tejas Roofing and Contracting was founded in 1981 by Roland and Deborah Tejada  and has a record of excellence that extends to the crews who have been working with the company for over 15 years. Tejas Roofing and Contracting believes in an "American Standard" of service and makes its customers needs its priority from the beginning to the end of the project. The following services are performed by Tejas Roofing and Contracting crews:
Sheet rock
Interior & exterior painting
Hardi Plank siding
Fencing
Contact Information:
Phone: 832.249.6446
Cell: 713-412-5606
Fax: 832.484.1617
Houston, Texas
Certified Consumer Reviews
Average rating:
16 reviews
Apr 12, 2016
They were Okay
The roof looks good. Due to behind schedules on their part and our scheduling and going back and forth with the insurance company, it took 9 months for them to finally complete the roof. They DID do it quickly, but since we had tree limbs come through the roof in three areas from the May 2015 storm, we had plastic over the holes in the Sheetrock that was not very thick. They told us that those holes would be covered with heavier plastic so no debris would fall into the house. That they did not do and we had debris. Also they did not cover the opening of the pull down attic stairs and we had debris there. Also found nails in yard and driveway and they did not replace some of the flashing on roof line. They have never called to follow up on our satisfaction.
Feb 8, 2015
Excellent job
Tejas did an excellent job on my roof. They were in and out in a day and cleaned up all the debris and nails.
Jan 21, 2015
When roofing is required we will call Tejas Roofing again.
Tejas quoted on a job to rebuild the roof on our front porch which was flat and leaking badly. Going in we knew the full extent of the job was unknown until the substructure was exposed and we were not surprised by the extent of replacement of the roof as well as the porch and ceiling beneath the roof. Their supervisor kept us aware of the work to do the job correctly and the quality of the work and the professionalism of the crew were amazing. Tejas completely rebuilt the roof and porch. It is now better than the day we bought the house. When roofing is required we will call Tejas Roofing again.
Oct 23, 2014
Tejas Roofing Prompt and Professional
Great job. Prompt, professional and really impressed with the quality of work and cleanup. They delivered on their promises/commitments and were the best price of 4 quotes