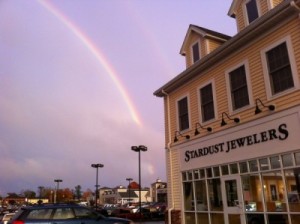 12 Uxbridge Road
Route 16 Imperial Plaza
Mendon, MA 01756
 Stardust Jewelers Mendon  Worcester County's Jeweler         of Choice
Located in Mendon, Massachusetts, Stardust Jewelers has been providing high quality products and services to their customers since 1978. Quality products and services along with customer comfort and satisfaction have remained the top priorities for the caring and experienced staff at Stardust for years. The well equipped staff at Stardust Jewelers has the knowledge and skills to answer questions and assist clients with jewelry, custom design, selling gold, jewelry repair, and more.
Stardust Jewelers is the Jeweler of Choice for individuals all across the Worcester County area for its exceptional customer service and attention to detail. The experienced and caring staff at Stardust takes time with each client to ensure they leave with the perfect piece of jewelry that will bring them a lifetime of joy and great memories. In 2015, Stardust Jewelers Mendon was recognized by Wicked Local, winning the Number One Reader's Choice Award for local jewelry stores.
With gorgeous and exclusive collections from Nominations, Robert Demeglio, Stuller, Valina, among others, Stardust Jewelers offers a range of traditional, vintage, modern, classic, and unique styles that are sure to match the needs of each individual client. The expert staff offers consultations to help customers find the exact piece they have envisioned in their minds. They will show you numerous types of metal compounds and a selection of the finest diamonds and gems to suit your particular and individual needs.
Many jewelry loves tend to have a stash of golf pieces that are either damaged, broken, missing gemstones, or have simply gone out of style. Stardust Jewelers offers a solution for jewelry lovers, providing cash or store credit for these scrap gold pieces. Instead of letting these pieces take up room in your jewelry box collecting dust, exchange them for a little extra cash in your pocket or put the credit towards a brand new jewelry piece for you to treasure.
Jewelry Repair
Using modern technology such as laser welding, Stardust Jewelers offers a variety of repair services for all types of jewelry pieces. The expert staff at Stardust offers same-day and on-site repairs with all work guaranteed to be of the highest quality for the highest customer satisfaction.
To learn more about the products and services offered at Stardust Jewelry in Mendon, contact them today or check out their website at: http://www.stardustmendon.com. If you are in the neighborhood, take a trip to the store to meet with the friendly staff and to see for yourself why Stardust Jewelers is recognized as the local jeweler of choice.
For daily updates, you can also follow Stardust Jewelers of Mendon on Social Media:
Stardust Jewelers is also perfect for all your wedding band and engagement ring needs. Check them out on Weddingbee and The Knot.
Stardust Jewelers Mendon
Average rating:
6 reviews
Aug 28, 2023
Stardust Jewelers has gained a new customer for life! Jim and Barbara and the entire staff provide impeccable service and professionalism. They worked with me to resize my grandfather's very large sterling ring so that my much smaller hands can treasure wearing it forever. I highly recommend their expertise and I will be back for future jewelry needs.
Mar 23, 2016
Best Jewelers around!
Stardust Jewelers of Mendon is by far the best jeweler in the area. I drive 45 minutes just to do business with them! Their staff is knowledgeable and always friendly, and their product is always top quality. I have done two Custom Design Rings with them already and cannot wait for the next project! 10/10 would recommend to anyone in the Worcester County or Massachusetts area.
Thank you very much Sheila, we also look forward to your next project !
Mar 15, 2016
Engagement Rings and Wedding Bands Worcester County
I moved here from out of town and went to several jewelers. Stardust Jewelers of Mendon really stood out. They were very knowledgeable (as you would expect of any jewelry store, but you'd be surprised) and they were very pleasant and not pushy. They had a great selection, but I had a combo custom made. It is gorgeous and I would not go to any other jeweler but Stardust moving forward. I couldn't endorse a place of business with a greater recommendation. Go visit them. You'll be pleasantly surprised.
Mar 12, 2016
Stardust Jewelers Diamond Ring
I had a great experience picking out a Diamond engagement ring at Stardust. They took time to explain all the important information about the Diamond quality, Then they set the Diamond while I sat there and waited for it. Great service! Highly recommended!!