Shermco Vending is the number one source for vending machines in the Washington, D.C. metropolitan area. Shermco also provides vending machine location services and repairs and offers 24/7 support to ensure complete customer satisfaction.

Since launching over ten years ago, customer service has been the foundation of Shermco Vending. The company's team of vending machine sales and repair experts are happy to assist customers in every step of their vending machine ventures. Available seven days a week, Shermco goes the extra mile for their customers. Currently, the team offers complete on-site repair in most of the east coast, including Delaware, New Jersey, Pennsylvania, Virginia, Maryland and Washington, D.C.
Shermco Vending is prepared to go the extra mile. Shermco ships parts and machines to all states in the USA. If your business is located outside of the northeast, Shermco Vending is happy to discuss the services that the team can provide on-site at your location — wherever you are!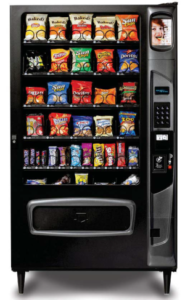 Shermco Vending is a leader in repairing and selling quality vending machines. Shermco's inventory includes a variety of vending machine types, including snack, soda and combo vending machines. All Shermco Vending products are equipped with a full warranty that covers all parts and labor. Quality is a cornerstone of all Shermco Vending machines; every machine goes through a 50 point quality assurance check system prior to sale. This system ensures that the machines are in full working order.
Experts in the industry, Shermco can also assist any business in finding a location for their Shermco Vending machines! The team guarantees that they can and will find the best possible location for your machine. Shermco understands that the goal of your vending machine is to draw in a profit. That's why the team is happy to:
Assist you in finding the best possible location for your vending machine
Provide you with full service instruction and demonstration
Repair and stock your vending machine, as needed
Additionally, Shermco Vending is one of the largest suppliers of vending machine parts in the nation. Shipping nationwide, their inventory contains parts from both current and retired manufacturers, including AMS, Cavalier, Gaines and many more.
For more information on Shermco Vending products and services, contact the team directly by calling 1-877-414-5096.  Or stop by for a visit at the warehouse in Gaithersburg, Maryland between 10 AM and 5 PM, Monday through Friday.
Visit Shermco:
18953 Bonanza Way
Gaithersburg, MD 20879
Certified Consumer Reviews
Average rating:
2 reviews
Jan 26, 2021
Tech help
Had a problem with a vendor. Sent board to another repair center and was told it needed replaced. Sent email to Shermco and their service department suggested a few things and within 10 minutes was back up and running. By checking a few settings and following their suggestions it was working fine.
Sep 30, 2020
Best Vending Machine Company Ever
I'd give these guys 15 stars if i could! They answer the phone and return calls, they are very helpful and knowledgeable, and just have all around great customer service! They are super nice to deal with