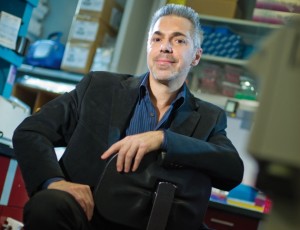 Robert Lanza is a world renowned scientist from Boston, Massachusetts.
In 2014, he was named one of TIME Magazine's 100 most influential people. Over the years, Robert Lanza has made extraordinary contributions to science focusing his research largely on stem cells and regenerative medicine. One of the main goals Lanza hopes to achieve through his work is to provide therapies for some of the world's most deadly and debilitating conditions.
Another major area of research Robert Lanza has focused on is the development of a new scientific theory called biocentrism. The theory of biocentrism explains a biocentric universe where life and biology are central to being, reality, and the cosmos. The idea is that life creates the universe rather than the other way around. Biocentrism asserts that current theories of the physical world do not work and can never be made to work unless they fully account for life and consciousness.
In 2007, Robert Lanza published a feature article entitled, "A New Theory of the Universe".
This article was published in The American Scholar, a leading intellectual journal known publishing the work of many major names in science such as Albert Einstein, Margaret Mead, and Carl Sagan, among others. In "A New Theory of the Universe", Lanza discusses the concept of biocentrism, explaining how biology should be placed above other sciences in an attempt to solve the puzzling questions of nature we have yet to fully uncover.
Just a few years later, in 2009, Robert Lanza co-authored a book with Bob Berman. The book is titled, Biocentrism: How Life and Consciousness are the Keys to Understanding the True Nature of the Universe.
In the book, Lanza and Berman explain how space and time are forms of animal sense perception rather than external physical objects. Understanding this simple yet revolutionary idea more fully yields answers to several major puzzles of mainstream science. It offers a new way of understanding everything from the microworld to the forces, constants, and laws that shape the entire universe.