Vacations are meant to be a get-away from your typical daily grind. But with so many travel destinations and accommodations to choose from, the planning process can quickly become overwhelming! Luckily, Resort Save can help eliminate stress by acting as your own personal vacation planning team.

Planning a vacation is no small feat.  Whether your heart's set on visiting a specific city, or you're completely directionless on where to go, the planning process is never simple.  Websites that plan out your trip for you can be convenient.  Sure, these services make things easy enough by showing you the cheapest packages available for wherever you may be going… But when it comes to the perfect vacation, there's often more to consider than price alone.  For instance, you may not even know what travel destinations you're searching for.
Resort Save isn't just a faceless travel planning website — Resortsave.com is your own personal vacation planning team!  Experts in all things travel, their travel agents maintain a wealth of current knowledge regarding today's top tourist destinations.  Dedicated to making sure you plan the vacation of a lifetime, Resort Save's team members are prepared to answer any and all questions you may have.  No matter how specific your travel plans may be, the Resort Save team is fully prepared to accommodate your vacation planning needs!
Global Emergency Travel Services Partnership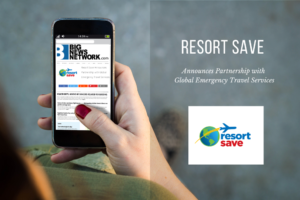 As of 2020, Resort Save is able to provide their customers with valuable travel protection services thanks to a partnership with Global Emergency Travel Services.  Services include (but are not limited to):
Emergency Medication Evacuation

Medically Necessary Repatriation

Lost Luggage Assistance 

Emergency Pet Housing and/or Return
While on vacation, you aren't typically prepared for the inconvenience of an unexpected emergency or disaster.  That's why Resort Save and Global Emergency Travel Services are dedicated to acting as a safety blanket for when those issues may arise.  All in all, at Resortsave.com, the team wants you to be able to enjoy your vacation without worry — as it should be!  Thanks to their travel protection services, you can enjoy your vacation with the peace of mind that if an emergency or disaster strike, you'll be safe and in the clear!
Resort Save Reviews
For more info on the latest reviews and testimonials from Resort Save, check out their new wesbite, http://resortsavereviews.com/. Resort Save Reviews features the latest client testimonials from Certified Consumer Reviews and other certified platforms across the web.
Resort Save
Average rating:
4 reviews
Jul 6, 2021
I bought a package from Resort Save after hearing the radio promotion. I like most thought it was free when I first heard it but non the less I know nothing worth while is free. It was a good deal for what I paid. I had a trip to Costa Rica that my husband and I ended taking for our anniversary we had an amazing time. And special thanks to Shawn for helping me book this amazing trip! Can't wait to take my other trips..
May 17, 2021
Cancun
I was kind of skeptical when planning this trip with Resort Save because of some things I've read. I was pleasantly surprised by the service I received by the customer Service in planning the trip..after this my skepticism declined. when I arrived in Cancun and was picked up by my transportation to the hotel things were looking good. But when I got to the hotel things started looking great. this was one of the best All Inclusive vacations I've ever taken. I'm so happy I took the chance, I had a great time and pretty much everything was as they had explained. I will definitely be booking other trips with Resort Save!!
May 2, 2021
Thank you Nikki
I spoke to Nikki last week regarding my potential trip to Las Vegas. I first went thru the company that handles your open destination and your cruise and after speaking with them I was not a happy camper and called your customer service number quite agitated and upset and ready to let someone have it and I ran into Nikki. I explained to Nikki I was trying to book my Las Vegas trip and was not happy with what I was being told by the other company she apologized and said she will see if there is anything she can do to help. She started asking me a few questions which was only growing my agitation, I soon realized she was asking the questions in order to give me an alternative. And after about 15 minutes I was hanging up with my trip on its way to being booked. I wanted to write this email that day but wanted to wait to see what would happen. Well I just received my confirmation for my trip and will be heading to Vegas in a couple of weeks. I just wanted you to know she was a great employee, she was patient and didn't let my attitude (Which was bad) take her left which I could tell she probably took a few deep breaths...lol
Apr 29, 2021
Just a few thoughts
Things don't always go right and you won't always be able to satisfy everyone, however it's the attitude with which you approach the problem and the interaction throughout the resolution process. I called in trying to resolve an issue or more so trying to understand the package that I purchased. I spoke with a young lady who tried her best to help me. She answered my questions, she was polite and courteous. We spent about 30 minutes on the phone. She explained my destinations, possible properties and the booking process, I mean I asked all the questions I had written down. In the end the package and the guidelines wouldn't work for me at this time, so I didn't keep the package; however being a business owner in the service industry myself I felt the need to let you know that the agent I spoke with deserves to be acknowledged as an exemplary employee. I know too often we as customers only take time to report the negatives and the complaints but never the time to highlight the positives. Please take this opportunity to acknowledge the exceptional service provided by Madalyn and if the rest of your staff is anything like she is you're on your way!