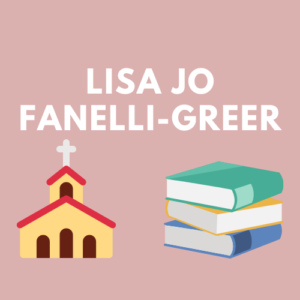 Lisa Jo Fanelli-Greer is currently seeking professional opportunities within Theology.  She is experienced in Spiritual Formation, Church History and Ministry Professorship.  Lisa Jo is presently pursuing further education in Theology, including a Master of Theology (Th.M) degree from Columbia Theological Seminary. 
At the baseline, Lisa Jo Fanelli-Greer's education in Theology began early on in her life.  Religion and faith have always been cornerstones of Lisa Jo's identity.  Her commitment to the church began when she was young and has continued to grow stronger throughout her life.  Over the years, she has pursued various qualifications within the Theology field, in addition to her education outside of the church.
After graduating from Leechburg Area High School at the top of her class as the Valedictorian, Lisa Jo Fanelli-Greer continued on to pursue her Bachelor of Arts (B.A.) in English from Westminster College.  She completed this pursuit by graduating cum laude with Departmental Honors and recognition from the National Endowment of Humanities (NEH).  Lisa Jo additionally completed pursuits including an Undergraduate Fellowship in English at University of Chicago, as well as participation in a Summer in Paris Program with Cornell University.
Theology Training
In recent years, Lisa Jo Fanelli-Greer's educational and professional focus have shifted concretely into the field of Theology.  Most recently, Lisa Jo completed her Master of Divinity (MDiv) from the Evangelical Seminary in May 2022.  Now, she is in pursuit of a Certificate in Spiritual Formation from Columbia Theological Seminary, as well as a Master of Theology (Th.M) from Gordon Conwell Theological Seminary.