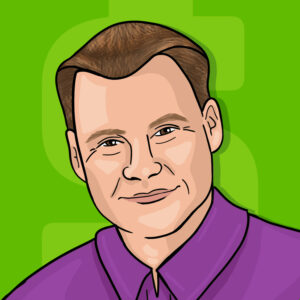 Awards & Accolades
Throughout his career, Ken Kaufman CFO has been honored by numerous awards of recognition. Highlights include:
V100 Entrepreneur (Signal Peak)
Top 40 Under 40
Top 25 Under Five (UVEF)
Ken Kaufman CFO is a tried and true expert in personal finance. On a freelance basis, he is available to help individuals achieve their financial goals. For many, the primary goal is to improve their financial health as it currently stands. By zeroing in on your goals and current financial status, Kaufman is happy to help you construct a plan that will benefit both you and your family for the long term. Known for his dedication to sustainability, Kaufman's financial advice will help benefit you not only today, but in the future as well.
Finance Podcast & Blog
Ken Kaufman is the Founder and Host of weekly personal finance podcast, Net Worth Hacks.  Launched in 2019, the podcast covers everything from how to cultivate assets to determining which bank meets your specific needs.  Drawing on both his personal and professional experiences in finance, Kaufman acts as a guide and advisor for his audience.  He hopes that by diving deep into both the basics and specifics of personal finance, Kaufman will be able to help his listeners achieve a better and brighter financial future.
While his financial expertise is still ablaze, Ken Kaufman is passing the torch to his kids. As a group effort, his 8 children share their perspective on personal finance in short text posts on the Finance by Kids blog. The project aims to cast a light on the idea that it is never too early to learn about and embrace personal finance!