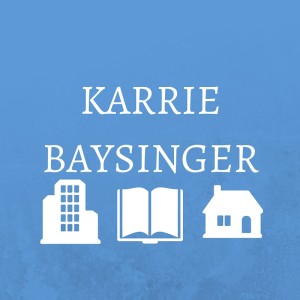 Karrie Baysinger holds numerous titles as an expert in the real estate industry in Dallas, Texas. She is well known for her efforts and contributions to real estate as an author, teacher, broker, and property management professional.
Chief Executive Officer at Preston Management
With over 21 years of management experience, Karrie Baysinger is the Chief Executive Officer at Preston Management. Based in Dallas, Preston Management is a professional property management firm specializing largely in multi-family homes and properties. In this role, Karrie Baysinger stands as a liaison to property owners. She provides communication with staff, residents, and vendors alike. As an expert in property management, Karrie Baysinger is also responsible for:
Budget and Financial Report Preparation
Contract Negotiations
Property Takeovers
Due Diligence
Operation Management
Licensed Real Estate Broker at The Baysinger Company
Outside of Preston Management, Karrie Baysinger is also a lincesned Texas Real Estate broker with the Baysinger Company. Also based in Dallas, the Baysinger Company represents both buyers and sellers looking to purchase and/or sell property in the local Texas area.
Karrie Baysinger understands that buying and selling a home can be a very difficult process involving a large investment and a great deal of commitment. The Baysinger Company is dedicated to working with clients from beginning to end to ensure their experience is as comfortable and rewarding as possible.
Real Estate Instructor
Karrie Baysinger has been a licensed real estate instructor for over 10 years. She has over four and a half years of experience teaching evening classes at the largest real estate school in Texas. Through her experience as a teacher as well as her other professional experiences in real estate, Karrie Baysinger realized there wasn't a lot of pure and useful information out there about the real estate business. She noticed that most available information did not focus on educating others. Instead, it focused on selling training videos or seminars and "get rich quick" schemes that did not offer a realistic approach to the real estate industry. Because of this, Karrie Baysinger made the decision to start writing books of her own to help share her knowledge with others interested in becoming successful in real estate.
Karrie Baysinger is currently working on a five part book series focused on the real world of real estate. The series is appropriately titled, "Real World Real Estate". Her first book, "The Roadmap to Successful Investing", was published in November of 2015 and is currently available on Amazon today.
For more advice and information about real estate, follow Karrie Baysinger and her Real Estate Tips board on Pinterest.
Karrie Baysinger
Average rating:
5 reviews
Nov 30, 2016
I highly recommend working with Karrie Baysinger
After dealing with the nightmare of trying to be a remote landlord for a property I own in Texas, I decided to hire a property management company. Preston Management took over management duties and has given me back a ton of my free time. The cost is reasonable and worth every penny. I'm glad I did it. For property owners in the same situation, I highly recommend working with Karrie at Preston Management.
Oct 16, 2016
Nothing but good things to say about Karrie Baysinger
I am a property owner who has been working with Preston Management and Karrie Baysinger for over 10 years. I have nothing but good things to say about them from an organizational, ethical and customer service standpoint.

They respect the tenants AND the landlord. They have sound judgment. Additionally, they are very knowledgeable about the rental and general real estate market. They handle money as carefully as if it were their own.
Jul 13, 2016
Karrie Baysinger is very hands-on
We had several properties that we owned prior to the real estate bubble. The only one that we were able to hold on to and to sell for a significant profit is the one managed by Karrie Baysinger. Karrie was very hands-on with our property and knew exactly what was going on at all times. Karrie is honest, dependable, ethical & a true real estate expert.
Apr 15, 2016
Karrie Baysinger is the best in Dallas
Exceptional company. THE BEST in Dallas without a doubt. Karrie and her associates are fantastic people who have exhibited integrity, commitment, initiative, are action-oriented and desire to make every tenant relationship a win-win for all parties.