Esteemed by a publishing career steeped in success, Julio Licinio has taken

Springer Nature
publications like
Molecular Psychiatry
,
The Pharmacogenomics Journal
, and
Translational Psychiatry
 to new heights in the realm of psychiatry journals.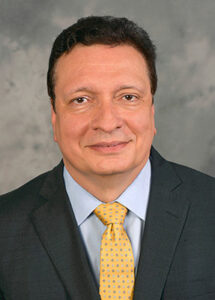 Julio Licinio is a highly experienced professional in the world of scientific research.  He is best known for being the Founding and Current Editor in Chief of several psychiatry journals distributed by Macmillan Publishers. But his publishing experience is far from limited to his work with scientific publications.  In fact, the bulk of his expertise has been earned through clinical, academic and research-focused work.  As of 2020, Julio is credited with contributing to well over thirty-one thousand published works.  In tandem with this, his portfolio also exhibits a plethora of engagements which have solidified his command as a scientific researcher, writer and publisher in the world of psychiatry.
Over the past two decades, Julio Licinio has cultivated a diverse range of research through academic and clinical research.  A great deal of this work has been contributed to the publication of books, peer-reviewed articles and scholarly journals.  He currently serves as Editor in Chief of various Springer Nature publications, as distributed by Macmillan Publishers.  In this role, he has edited and published nearly forty articles written by eight individual Nobel Prize winners. Celebrated for his innovative contributions to Springer Nature, and credited with catapulting the scientific literature outfit's Molecular Psychiatry to super stardom in the psychiatry sphere.  In his thirteen years as Editor in Chief of the publication, the psychiatry journal has earned the rank of #1 on a worldwide scale.
In total, Julio Licinio has contributed to 363 publications.  Outside of his contributions to periodicals and psychiatry journals, He has published 13 books and 350 articles and chapters.  He is also credited on nearly 290 articles in Pubmed.
Julio Licinio has contributed 30,094 citations in Google Scholar.  His average citations/item is 60.2, with at least 64 individual papers maintaining over 100 citations each with a Google Scholar h-index of 77 and a i10-index is 212.