Juhi Deolankar is a doctor specializing in Urology. She currently practices and studies Urology as a Resident Physician.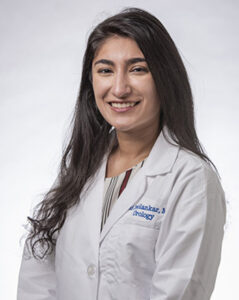 Juhi Deolankar received her Doctor of Medicine (MD) from Rutgers New Jersey Medical School in 2020.  Eager to launch her career, Deolankar established the foundation of her education with her enrollment in a seven-year accelerated program at New Jersey Institute of Technology.  Deolankar also pursued her academics internationally while studying abroad at the University of Sheffield in the United Kingdom.  After completing NJIT's accelerated seven-year program in just three years, Deolankar earned her BA in Biology with a Minor in Entrepreneurship before continuing on to complete her MD at Rugers.
Awards, Honors & Recognitions 
Though early in her career, Juhi Deolankar has already achieved numerous professional accolades.  During her academic career, Deolankar maintained distinction throughout her studies.  Each semester of her enrollment at NJIT's Albert Dorman Honors College, she maintained her place on the Dean's List.  At graduation in 2016, Deolankar was honored with the Summa Cum Laude distinction.
Scholarships & Grant Funding
International Study Scholarship (2017)

Albert Dorman Honors College Endowed Alumni Scholarship (2014 — 2016)

New Jersey Association of Counties Foundation Scholarship (2013)
Juhi Deolankar is currently professionally affiliated with the American Medical Association (AMA) and the American Urological Association (AUA).
Founded in 1847, the American Medical Association is the largest association of MDs and DOs, training physicians and medical students in the United States.  AMA's mission sets emphasis on promoting the art and science of medicine while maintaining a dedication to improving public health.  Juhi Deolankar is proud to maintain membership within a lobby group of talented, highly-trained and skilled medical professionals committed to patient care and medical research.
American Urological Association
The American Urological Association represents Urologists both at home in the US and internationally.  Setting the standard for medical research and clinical care in Urology, AUA is an active professional and educational resource for Urology Specialists.  Through her affiliation with AUA, Juhi Deolankar maintains her overall commitment to researching and practicing the latest clinical care approaches in Urology.
Certified Consumer Reviews
Average rating:
0 reviews