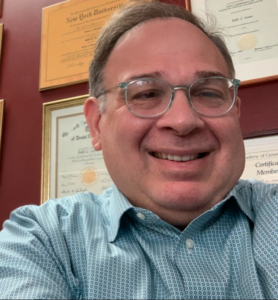 For nearly three decades, Judd Lesser has solidified his command as a General Dentist.  Along the way, Lesser has refined his skill set with a specialization in Cosmetic Dentistry.  Although he is an expert in all aspects of oral medicine, this Oral Health Professional is best known for his cosmetic and implant dental work.  At his private practice, Lesser and his staff excel in providing services that not only maintain proper oral health, but are also focused on preventative and restorative approaches.
Judd Lesser proudly maintains a Bachelor of Arts from Yeshiva University (class of 1984).  In 1991, Lesser polished off his credentials for the start of his cosmetic dentistry journey by receiving his DDS from NYU College of Dentistry.
Cosmetic Dentistry
Focused on enhancing the value of dental practices in the modern day, Judd Lesser and his talented team of Oral Health Specialists are committed to providing patients with nothing but the best!  Blending a culmination of trusted techniques with cutting edge dental services, Lesser truly offers a state of the art dentistry experience.  Judd Lesser specializes in all aspects of Cosmetic Dentistry, including both preventative and restorative procedures.  Whether a patient's visit is focused on a routine checkup or a restorative cosmetic procedure, Lesser and his team will truly make that smile shine!  
Judd Lesser is both Owner and President of Northeast Dental Alliance (NEDAL).  Lesser established the conglomerate in 2019 as a way to help dental professionals transition into retirement.  This partnership ensures that the practice will reach its full potential while maintaining the original owner's oral health and medicine legacy for the long haul.  NEDAL assists in all aspects of this transition, from early preparation to positioning a strategy to sell the dental practice for maximum value potential. 
Judd Lesser DDS
Average rating:
0 reviews