A pioneer of innovative products Harbortouch is a leader in the POS industry, and supplies thousands of small and mid-sized businesses with state-of-the-art POS solutions and payment technology.
Processing more than $17 billion in transactions annually, Harbortouch is a trusted supplier of best-in-class point of sale technology. Dedicated to providing merchants with cutting edge equipment and offering a wide range of hardware with no upfront costs, including Electronic Cash Registers, Wireless Terminals, and the company's flagship Echo and Elite POS devices.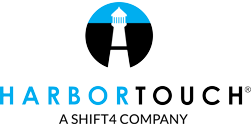 Point of sale products from Harbortouch include a variety of useful POS features, including:
● Basic and advanced inventory management
● Vendor management
● User permissions
● Employee time clock
● Table management
● Delivery and driver management
● Online ordering
● Tips and gratuity
● Split payments
● Refunds and returns
● Open priced items
● Discounts and promotional pricing
● Client display
● Self-service kiosks
And other benefits include:
Secure Payment Processing
All transactions are processed using PCI-validated P2PE (point to point encryption) and tokenization for maximum security.
Gift Cards and Loyalty Programs
Solidify your relationship with clients by incentivizing them with special offers and promotions via our loyalty programs. Additionally, you can boost sales and drive brand awareness with customized gift cards.
POS Installation, Training, and 24/7 Assistance
The installation of all POS and payment solutions is facilitated free-of-charge and onsite training is also included with every POS order. Not to mention our 24/7 in-house guidance and technical assistance – your business isn't 9 to 5 and neither are we.
With powerful Lighthouse Business Management Products, Harbortouch provides merchants with remote access to their POS devices 24 hours a day, 7 days a week. Lighthouse enables you to view reports online, make changes to your menu or inventory remotely, and manage your employees from anywhere. It also features powerful brand management and client engagement tools.
Keep up to date with the latest news on their social media:
facebook.com
twitter.com
Certified Consumer Reviews
Average rating:
21 reviews
Aug 1, 2019
Great System
Great system has simplified, our complete operation
Jul 16, 2019
Excellent Service
We have used Harbor Touch for a few years now and are very pleased. The customer service provided by Dustin is excellent . We have not experienced any problems with processing transactions. I highly recommend them.
Jul 11, 2019
Great Service
I have used Harbortouch in two restaurants for 4 years now. I have been very happy with the system and service I receive from support. I am most happy with my Account Executive. He is always responsive and helpful with our system and processing questions. As a small independent operator I have to watch my cost very closely and we have had some increases in cost due to PCI changes. I need to keep those costs down moving forward.
Jul 3, 2019
Quality service
The best company to take care of our business for many years. Mr Javad Derakhshan is extremely professional and helpful . whenever we have questions or in need of help , he is there for us . we are happy with Harbortouch and continue to work with them.
Jul 3, 2019
Owner
After several different POS systems I finally found one that gives all I ask for and more. I have been running Harbortouch for about 1 year with no problems. Staff and support are fast and courteous.
Jul 1, 2019
Easy to use innovative pos
Our restaurant pos from harbortouch fills all our daily needs in any easy to use format. Very easy to customize to your establishment
Our salesman Robert Gainey is always available to answer questions and help our business. Only flaw is sometimes tech support càn take a long time on phone when we are trying operate our business
Jun 28, 2019
Harbortouch is the best decision I've ever made
Since we changed from our old POS system to Harbor touch all of our problems have been fixed and when we do have issues they are right there to help us. Not to mention our sales rep has become like family. Whenever we have a problem he drives to any of our locations himself to help try to fix them if not we will call support And it always gets done.
Jun 25, 2019
We Have 7 POS Systems; Highly Recommended!
We are a bar and grill in Sycamore, IL with three separate seating areas. We have a total ofseven harbor touch stations at our establishment. Harbor touch has excellent 24-hour customer service and has always been able to walk is trough any questions we have. Having their system has helped us streamline and organize our business. We are happy with system and would recommend it to other bars and restaurants.
Jun 21, 2019
I Highly Recommend Harbortouch
From my exceptional sales representative "Dustin" to amazing the amazing systems, great customer support. Hands down the best POS system on the market. I would highly recommend for anyones business. I have had this system in 3 different businesses I have owned and they were perfect for everything we needed in our day to day operations. Proud 5 1/2 year customer.
Jun 14, 2019
Thank you!
I've been with Harbortouch over 2 1/2 years and have received glowing customer service from tech support, customer service and the sales rep and the equipment has been a HUGE help in running my business and making it easier! Thank you!