A pioneer of innovative products Harbortouch is a leader in the POS industry, and supplies thousands of small and mid-sized businesses with state-of-the-art POS solutions and payment technology.
Processing more than $17 billion in transactions annually, Harbortouch is a trusted supplier of best-in-class point of sale technology. Dedicated to providing merchants with cutting edge equipment and offering a wide range of hardware with no upfront costs, including Electronic Cash Registers, Wireless Terminals, and the company's flagship Echo and Elite POS devices.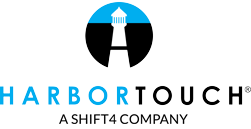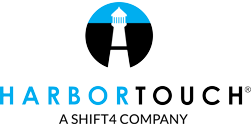 Point of sale products include a variety of useful POS features:
● Basic and advanced inventory management
● Vendor management
● User permissions
● Employee time clock
● Table management
● Delivery and driver management
● Online ordering
● Tips and gratuity
● Split payments
● Refunds and returns
● Open priced items
● Discounts and promotional pricing
● Client display
● Self-service kiosks
And other benefits include:
Secure Payment Processing
All transactions are processed using PCI-validated P2PE (point to point encryption) and tokenization for maximum security.
Gift Cards and Loyalty Programs
Solidify your relationship with clients by incentivizing them with special offers and promotions via our loyalty programs. Additionally, you can boost sales and drive brand awareness with customized gift cards.
POS Installation, Training, and 24/7 Assistance
The installation of all POS and payment solutions is facilitated free-of-charge and onsite training is also included with every POS order. Not to mention our 24/7 in-house guidance and technical assistance – your business isn't 9 to 5 and neither are we.
With powerful Lighthouse Business Management Products, Harbortouch provides merchants with remote access to their POS devices 24 hours a day, 7 days a week. Lighthouse enables you to view reports online, make changes to your menu or inventory remotely, and manage your employees from anywhere. It also features powerful brand management and client engagement tools.
POS Solutions for Every Industry
As featured on Paramount Network's Bar Rescue, hosted by Jon Taffer.

Each system is uniquely equipped with features and services that specifically cater to your company's industry. The Bar and Restaurant POS System has been featured on the television show, Bar Rescue.

Features of the Bar and Restaurant POS systems are designed to provide business owners with functions that specifically benefit the hospitality industry. The development team understands that time is money. The Bar and Restaurant package takes this into account for your benefit. Highlighted features include:
Menu Customization
Dynamic Pricing
Reservations
Bar Tabs
Tableside Ordering
Echo POS System
Echo POS combines the simplicity of competing iPad POS systems with powerful purpose-built hardware. Echo is completely customizable, providing users with everything from basic calculator functionality and cash register interface to in-depth management tools. If simplicity is what you're after, Echo also allows users to hide features that they do not need.
Accessory upgrades for Echo include:
Remote Printer
NFC/EMV PIN Pad
Digital Scale
Barcode Scanner
Keep up to date with the latest news on their social media:
facebook.com
twitter.com
Harbortouch
Average rating:
26 reviews
Nov 7, 2019
Entire Process Was Stress Free
My salesman was Will M. He was so amazingly helpful. This is our first business and he made the entire process stress free. With everything I have to do, setting up our POS was the best encounter.
Oct 10, 2019
Great Service
I have used in two restaurants for 4 years now. I have been very happy with the system and service I receive from support. I am most happy with my Account Executive. He is always responsive and helpful with our system and processing questions. As a small independent operator I have to watch my cost very closely and we have had some increases in cost due to PCI changes. I need to keep those costs down moving forward.
Pamplona Cocktails & Tapas
Sep 23, 2019
Good POS system
I have Harbortouch POS system for a year and we are so happy , is so easy to used and the support is very personal ,Vladimir is our hero , he has being with us since the beginning and all the time when we need assistant he is there for us, it doesn't matter what time and what day . The back office has all the reports and marketing fixtures that allow me to run my business very easy .
Sep 19, 2019
Perfect POS for Restaurants
I'm the owner of Maza Mediterranean Grill in Las Vegas. We have been using Harbortouch Elite Hospitality for over 5 years. We have added new terminals and now we implemented the new SkyTab pay-at-the-table devices as well. I like the simplicity of this POS system. It is very user-friendly for my employees. On the other hand, it gives me all the managerial tools and reports I need even from the online portal, so I can manage my restaurant when I'm away.
Technical support is available 24/7 to help with any software issue. They even replaced one of my older terminals for free. The local sales rep, Vladimir, is always available to help me. I highly recommend them to any restaurant.