A pioneer of innovative products Harbortouch POS Systems is a leader in the POS industry, and supplies thousands of small and mid-sized businesses with state-of-the-art POS solutions and payment technology.
Processing more than $17 billion in transactions annually, Harbortouch is a trusted supplier of best-in-class point of sale technology. Dedicated to providing merchants with cutting edge equipment, Harbortouch offers a wide range of hardware with no upfront costs, including Electronic Cash Registers, Wireless Terminals, and the company's flagship Echo and Elite POS devices.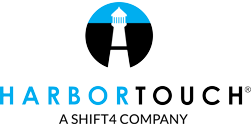 Harbortouch's point of sale product includes a variety of useful POS features, including:
● Basic and advanced inventory management
● Vendor management
● User permissions
● Employee time clock
● Table management
● Delivery and driver management
● Online ordering
● Tips and gratuity
● Split payments
● Refunds and returns
● Open priced items
● Discounts and promotional pricing
● Client display
● Self-service kiosks
And other benefits include:
Secure Payment Processing
All transactions are processed using PCI-validated P2PE (point to point encryption) and tokenization for maximum security.
Gift Cards and Loyalty Programs
Solidify your relationship with clients by incentivizing them with special offers and promotions via our loyalty programs. Additionally, you can boost sales and drive brand awareness with customized gift cards.
POS Installation, Training, and 24/7 Assistance
The installation of all POS and payment solutions is facilitated free-of-charge and onsite training is also included with every POS order. Not to mention our 24/7 in-house guidance and technical assistance – your business isn't 9 to 5 and neither are we.
Harbortouch's powerful Lighthouse Business Management Product provides merchants with remote access to their POS devices 24 hours a day, 7 days a week. Lighthouse enables you to view reports online, make changes to your menu or inventory remotely, and manage your employees from anywhere. It also features powerful brand management and client engagement tools.
Keep up to date with the latest news on their social media:
facebook.com
twitter.com



Certified Consumer Reviews
Average rating:
10 reviews
Jun 14, 2019
Thank you, Harbortouch
I've been with Harbortouch over 2 1/2 years and have received glowing customer service from tech support, customer service and the sales rep and the equipment has been a HUGE help in running my business and making it easier! Thank you!
Jun 12, 2019
Service, Products, Professionalism!
Harbortouch has provided my business (Heritage Hill Pizza) with excellent service! Their product(s)/POS systems are exceptional and we've been treated with nothing but Professionalism! Hat's off. Thank you!
Jun 10, 2019
Just Installed a Second Harbortouch POS System for my Other Business
I've been a customer for 4 years. Recently chose Harbortouch for my second business because I am very satisfied. System is easy to use and customer service is easily reachable. They help out with every case.
Jun 6, 2019
Fantastic Customer Service
Harbortouch always has our back. Their customer service reps never panic and do a great job dealing with a frazzled manager. (me) I am not super computer savvy so I appreciate their calm and friendly reassurance. Our power cable and internet is not super reliable but they keep us going every-time. Thanks
May 29, 2019
The best POS system I've used is Harbortouch
I have used the echo system for two years now and this is by far the best system I have had. The ability to track items has led to a big increase in our profits. No more guessing how many items were sold on any given day.
May 23, 2019
The POS reports helped double our profits
By using the echo pos system we were able to streamline every part of the sales process. We hosted a large event just one week after getting the system. The ease of use made it very easy for employees to ring up sales faster and more efficient. On the back end we were able to almost double our profits from previous years by being able to track items and get reports instantly.
May 20, 2019
Outstanding POS installation and training
It's been a pleasure having a state of the art POS system. The installation and training of employees was excellent. My rep always came through with fixes or instructions when needed. When ever he was called it was answered promptly or the call was returned very timely. Thanks for your help, it has made our business better.
May 16, 2019
Very user-friendly POS system and a, great sales rep!
Harbortouch has been a good system for us. Easy to use with good, useful reports. Our rep Will Maese has always great in helping get us in the right POS system, work through issues, and proactively anticipate our needs.
May 13, 2019
15 years and counting for this lifelong Harbortouch customer
I have had HarborTouch for 15 years now and have nothing but good to say. They have issues like anyone else but nothing that a little patience can't resolve.. customer service is always great and whenever I've had a problem or something is broken it gets replaced. No questions asked.
Vito
May 6, 2019
Hands down, the best restaurant POS system is Harbortouch
Being that I have been in the restaurant business way before the era of POS systems and have often wished when working on some POS systems that we could go back toe the hand written chit, Harbour Touch is a breath of fresh air.
I literally have worked on many different systems in my time and by far, as far as I am concerned, the Harbour Touch System is the best I have found. From their installation to phone support to personalized service from my rep. Willy Maese they are the best. Oh, by the way, Harbour Touch is in both of my restaurants.
Thank you Willie Maese and the Harbour Touch Team

Gino Catenacci
President
Gino;s Vino Osteria