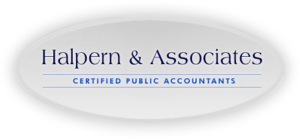 For more than thirty years, Halpern & Associates has been widely recognized for its dedication as a small firm to the community, providing top quality, personalized services to its diverse group of clientele.
Whether you are looking for personal assistance or assistance for your business, big or small, Halpern & Associates offers a full spectrum of services at the highest quality. The committed professionals at Halpern & Associates strive to provide clients with expert accounting solutions conveniently and efficiently.
At Halpern & Associates, confidence and confidentiality are key. When you meet with one of their experienced advisors or CPAs you will begin to form a long lasting relationship of trust and communication. Your professional team will work with you to explain their personalized services and how each service can be the most beneficial to achieving your own unique and individual goals. Any information and discussion about your personal information will be kept in strictest confidence.
Some of the major services provided include:
Business Consulting Services – From startups to small businesses and large corporations, Halpern & Associates offers essential consulting services from general accounting to more in-depth planning and support.
Tax Preparation Planning – Maximize the enjoyment of your assets while minimizing tax costs.
Hedge Fund Administration – Specialized administrative, accounting, and consulting services are provided for both domestic and offshore hedge funds.
Broke-dealer Services – Including tax services, accounting services, RIA surprise examinations, as well as independent reviews of anti-money laundering (AML).
Bookkeeping – Keep your business running smoothly with bookkeeping services including purchases, sales, payments, and more.
Remote Executive Services – Instead of hiring a full time employee, outsource FINOP and CFO responsibilities to our local professionals.
Contact Halpern & Associates today to learn more about their individualized approach and personalized accounting services.
Certified Consumer Reviews
Average rating:
15 reviews
Feb 16, 2018
Great firm, highly reccomend
got tired of trying myself, they made it easy and helped me find savings, very rersponsive
Feb 16, 2018
Such a peasure
Just used Halpern and Associates for my 2017 taxes, great service, very friendly, highly recommend!
Oct 13, 2017
Highly reccomend
I was having trouble communicating with my last accountant, H&A returned all my calls and emails quickly and made filing way less stressful!!
Sep 11, 2017
Great bookkeeping
I have a small business and the accounting had just gotten overwhelming. The halpern & associates staff took the burden off my shoulders and were even able to help me find places I didnt realize I was losing money, highly recommend.