George Bolzoni is a fitness trainer who graduated with his Bachelor of Arts degree in Physical Education and Health.
Today he is the proud owner of George Bolzoni Fitness situated in the New York City area.  George focuses on more than just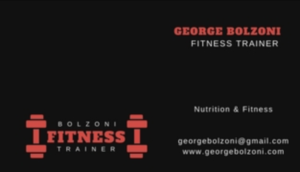 the physical aspect of fitness with his clients.  George focuses on three things with his clients:
Physical Health
Mental Health
Nutritional Health
Physical Health
George has always been active, even as a young boy when he played sports.  Once out of school and his team sports were done,  George knew that he would have to start an exercise regimen if he wanted to stay fit.  By doing this he was able to keep his energy level up and stay active.
Mental Health
While physically health is extremely important, George knows that mental health is equally important.  Without a positive attitude, you run the risk of suffering from depression, anxiety and lack of motivation.  George says you can keep your metal health sharp in may ways like aerobic exercise, yoga, meditation, a good night's rest and taking time out to enjoy your loved ones and friends.
Nutritional Health
George Bolzoni | Fitness
Average rating:
1 reviews
Jul 11, 2018
Very knowledgeable and welcoming excellent diet plan also inspired with the creativity in every work out.