725 W SR 434 Suite E
Longwood, FL 327505
800-364-1674
Family Dream Getaways specializes in planning the Best Tropical Family Vacations at affordable prices.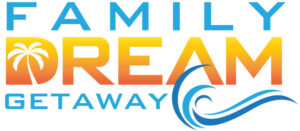 Affordable Family Getaways
Get ready for the family fun of a lifetime when you plan your dream family vacation with Family Dream Getaways!  Specializing in affordable dream vacations, the team makes planning your next big adventure a total breeze!  All you need to do is pack your bags and embrace the fun of a vacation spent with your family.  At Family Dream Getaways, the team believes that you shouldn't have to spend your life savings on a trip.  That's why they specialize in providing affordable vacation packages that are accessible to all — no matter what your budget may be.  It is possible to explore dream locations and have a one in a lifetime vacation without breaking the bank.  And that's exactly what Family Dream Getaways is here for!
For more than twenty years, Family Dream Getaways has helped thousands of families with their vacation planning needs.  Offering quality vacation packages at an affordable price, the team focuses on developing the perfect plan for you, so you can focus on enjoying the fun!  If you want to drift away from your day-to-day lives and break free from the hustle and bustle of busy living, then a tropical trip will be perfect for you!  Specializing in adventures for families, Family Dream Getaways ensures that your experience will be family friendly and full of fun.  There will be plenty for parents, kids and other loved ones to enjoy on this dream getaway to a tropical destination you won't soon forget.
Family Dream Getaways
Average rating:
17 reviews
Jun 14, 2023
8/7 Open
Awesome time on this one ladies! We spent a whole week out in Colorado on our annual Girl's Trip. A few of us have this package so we plan on using them and doing girl's trips all over America. It came out such a bang for the buck! Thanks FDG!
Jun 9, 2023
Smoky Mountains
I booked the Smoky Mountains through Family Dream Getaway and had a great time. Learned some new stuff. I did not know Smoky Mountains consisted of different places like Gatlinburg and Pigeon Forge. If you are a nature and live music kind of guy this is the spot for you
Jun 3, 2023
Villa del Palmar, CANCUN
Definitely book the upgrade and do the VDP in Cancun. The property was beautiful and the service was excellent!! Well worth every dollar - Hec
May 30, 2023
Sin City, USA
Vegas Vegas Vegas! Whatever We did there, will stay there lol if you know you know! Awesome time out there, I used my Open Destination trip and me & 3 buddies had the time of our lives for 8 days and 7 nights lol! Thank you FDG, glad I got the memories on my phone because the week felt blurry LOL
Page 1 of 5:
«
‹
1
2
3
4
5
›
»