Through immersion in the environment and nature, visitors embrace the opportunity to achieve an elevated sense of self-discovery. Working from the outside in, the temporary residents of Diamond Mountain output positivity and productivity while on their path to mending internal struggles or curiosities.
Diamond Mountain is committed to keeping up to date with the latest safety precautions due to the Coronavirus pandemic. To ensure the health and safety of visitors, DMRC has updated policies and regulations to maintain a Covid-free environment.
Diamond Mountain is now offering  special "2 for 1" accommodations with free yoga and meditation classes for first responders and heroes of the pandemic. Read more here about this promotion here: https://www.grantcountybeat.com/news/non-local-news-releases/62839-diamond-mountain-retreat-center-offers-respite-to-first-responders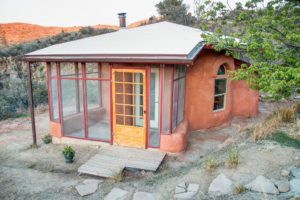 For the duration of their stay at DMRC, visitors take up temporary residence in one of 27 cottages. Secluded from the hustle and bustle of daily life, each cottage is surrounded by the wonders of nature. This makes for stunning views that nurture the mind and renew the senses.
The cottages at Diamond Mountain are simplistic and yet captivating. The serenity of simple living helps to rejuvenate the focus of each visitor who embraces the lifestyle. Natural light and breathtaking backdrops let in thoughts of relaxation and mindfulness.
Cottage options range from cozy and comfortable to modern and elegant. Visitor favorites have included:
Although simplicity is a highlight at Diamond Mountain Retreat Center, the cottages are not without the luxury of modern living. Each cottage is fully equipped with eco-friendly and sustainable plumbing, appliances, heating, etc.
Diamond Mountain promotes the concept of improving one's self through improvement of the world. During their stay, visitors embrace daily activities as learning experiences. Diamond Mountain Retreat Center's visitors, volunteers and residents embrace the notion that being a positive influence on others and nature helps to shape both the immediate and extended environment of each individual.
Residents who participate in volunteer efforts are offered many opportunities to benefit their environment. On site, visitors embrace the agricultural design known as permaculture. This experience fosters the idea of taking care of the earth and one's own community for the benefit of all. Over the years, DMRC has embraced the principles of permaculture to the fullest extent. This has included the cottage layout, which relies on eco-smart architecture as well as eco-friendly procuring of food sources. The opportunities of education and self-discovery through the on site volunteer and permaculture programs are endless. Visitors enjoy the hands on nature of the process.
Visitors are offered the option of general workshops, certification programs, internships and residencies at Diamond Mountain Retreat Center.
See more reviews and testimonials: http://diamondmountainretreatcenter.com/reviews-testimonials/

Diamond Mountain Retreat Center
Average rating:
0 reviews