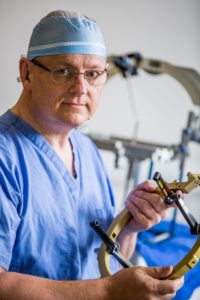 University of Utah
Salt Lake City, UT 84112
He is currently a professor and the director of the neurotrauma program at the University of Utah.
Previously, from 2003 to 2008, Craig H. Rabb MD worked as an Associate Professor in the Department of Neurosurgery at the University of Colorado School of Medicine. He was also the chief of the Neurosurgery Division at the Denver Health Medical Center. Along with many other accomplishments, Dr. Craig H. Rabb established a Traumatic Brain Injury Laboratory at Denver Health.
From 1998 until 2003, Craig H. Rabb MD held his own private practice in Englewood, Colorado and temporarily in Nebraska, Wyoming, and Oklahoma. Previous to that, Dr. Rabb was an Assistant Professor in the Department of Neurological Surgery at the Oregon Health Sciences University and Chief of Cerebrovascular Surgery and Neurosurgery at the Portland VA Medical Center in Portland, Oregon.
For a summary of Craig H. Rabb MD's educational and professional experience along with his affiliations to professional organizations, check out his profile on Crunchbase – https://www.crunchbase.com/person/craig-h-rabb-md#/entity.
Education & Residency
Dr. Craig H. Rabb earned his undergraduate degree from the University of Oklahoma receiving a Bachelor of Science in Microbiology in 1983.
He then went on to medical school, attending the University of Oklahoma College of Medicine in Oklahoma City from 1984 to 1988. He graduated with his Doctor of Medicine and Outstanding Distinction. He was recognized as the top graduating student out of a class of 186.
Upon completing medical school, Craig H. Rabb MD began residency in Neurological Surgery at the University of Southern California from 1988 to 1995.
Over the course of his career, Dr. Craig H. Rabb MD has completed over 50 publications and book chapters in neurosurgical literature, many on the subjects of brain disorders, spinal cord injury, and minimally invasive spinal surgery.
Craig H. Rabb MD is also a member of numerous medical and neurological associations and organizations which include:
Ethics Committee of the American Association of Neurological Surgeons (AANS)

Professional Conduct and Ethics Committee of the North American Spine Society (NASS)

Society of University Neurosurgeons (SUN)
To learn more about Dr. Craig H. Rabb and his services, qualifications, experience, and more check out his profile at the OU Medical Center: https://www.oumedicine.com/oumedicalcenter/medical-services-and-departments/spine-services.
Craig H. Rabb MD
Average rating:
2 reviews
Sep 19, 2019
In December 2000 Dr. Craig Rabb more than saved my life!
I was moments to death after being stricken by ruptured cerebral aneurysm. A total miracle for me to somehow spend the last moments of my would-be life in the ER of the hospital where this brilliant genius was. Thank you Thank you Thank you Dr. Craig Rabb!
May 10, 2018
Thankful for Dr. Rabb
I can never express in words how thankful I am for what you've done for me and my life! You have forever changed everything for me! Just to have steady hands in an incredible thing. You've given me an awesome Christmas present. Dr. Rabb you will forever have a special place in my heart.