Carolina Cabrera DiGiorgio is the President and CEO of nonprofit organization, Congreso de Latinos Unidos, Inc. An active philanthropist, DiGiorgio contributes to numerous community work efforts.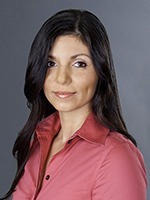 Carolina DiGiorgio's resume is polished by numerous awards and honors of recognition for her work in the community. She credits her experiences with her nonprofit, Congreso de Latinos Unidos, Inc. as well as her education with strengthening her reach as a philanthropist.  In addition to her roles as President and CEO of Congreso de Latinos Unidos, Inc., she is also a Cub Scouts Volunteer and supporter of parishes and schools in her local community.
Education
Carolina Cabrera DiGiorgio is a diversely experienced professional. Her collegiate education has refined her command throughout all of her professional and philanthropic endeavors. In 2002, DiGiorgio graduated with honors from Rutgers University, Honors College. During her enrollment, she was a proud member of Phi Beta Kappa. This experience earned her a Bachelor of Arts degree in Political Science, with Minors in Psychology and Spanish. In 2005, DiGiorgio continued her education by receiving her Juris Doctor (JD) from the Rutgers University School of Law. Most recently, in 2018, she completed an Executive Leadership Certification at the University of Michigan. This Certification was completed via the Alliance for Strong Families and Communities.
Honors & Awards
Throughout her career and community work efforts, Carolina DiGiorgio's accomplishments have been recognized by numerous honors and awards. She is proud and grateful to have been honored by the following:
Lawyer of Color, Lawyers of Color Magazine – 2014
Speaker & Honoree, Latinas Lifestyle – 2016 & 2017
Employee Enrichment Speaker, Comcast – 2017
Delaware Valley's Most Influential Latino – 2017
Keynote Speaker, YPTC Nonprofit Women's Conference – 2018
Moderator, IBC Someone You Know Regional Conference – 2018
Award Honoree, Girl Scouts Take the Lead, Southeast Region – 2019
Keynote Breakfast Panelist, IBC Women of Independence – 2019