Caitlin Thibault is an aspiring educator who currently works as a student teacher and tutor. As she pursues her M.A. degree, the graduate student is gaining experience in Secondary Education.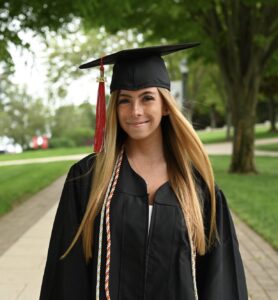 Education & Training
B.S. and M.A. from Fairfield University
Caitlin Thibault loves school!  She always has and always will.  Along with her lifelong passion for learning and helping others, her love of school is what has inspired her to pursue a career as a teacher.  In preparation for her work as an educator, Thibault has completed her Bachelor of Science (B.S.) degree in Mathematics with Minor concentrations in Economics and Educational Studies.  She promptly continued on to pursue her Master of Arts (M.A.) in Secondary Education with a focus on Mathematics.  Both degrees have been pursued at Fairfield University.
So far, Caitlin Thibault has taken on roles as a Student Teacher and Tutor in secondary education mathematics settings.  Thibault has previously worked as a Student Teacher at Fairfield Woods Middle School and also provides assistance to students as a Math Tutor.  In her early professional experience as an educator, Thibault has been introduced to all corners of classroom management and instruction.  Working one-on-one with the teachers she assists, the future educator has delved into the process of curriculum development.  With the use of modern educational technology, Thibault has come to learn how to create a curriculum that is engaging, fun and productive for her students.
Outside of her professional work and her own studies, Caitlin Thibault is also passionate about volunteering in her local community.  Thibault has worked with various nonprofit organizations over the years, including American Cancer Society, Colleges Against Cancer, Play Like a Girl, Connecticut Food Bank, St. Baldrick's Foundation, Wounded Warrior Project and Operation Christmas Child.