Committed to providing their clients with the highest quality construction services, C. Abbonizio Contractors place quality and safety at the forefront of all projects.  The team has completed projects for both private companies and public organizations in the Philadelphia metropolitan area. C. Abbonizio's experts have completed projects for a dynamic range of clients, from airports to small businesses — and everything in between!
Management and Engineering Jobs – Now Hiring
Check out the latest job postings from C. Abbonizio Contractors, now hiring for various account management and engineering positions for 2022.
Highlighted Services
C. Abbonizio Contractors specialize in building and non-building construction utility work and excavation services, including landfill development and excavation.  Learn more about a highlighted selection of services offered by the Contractors:
Heavy Construction & Utility Work
Including water main systems, sanitary and storm systems, railwork, concrete & asphalt paving and more.  As always, these services are available for residential, industrial and commercial properties.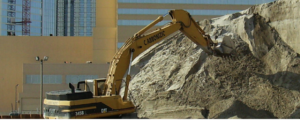 Available for both residential, commercial and industrial sites!  The C. Abbonizio team maintain the resources to complete any site development — regardless of the site's size.  Calling on their decades of experience and expertise within the industry, the team will ensure that all critical needs are met in the most efficient manner possible.
Testimonials and Reviews
Through the years, C. Abbonizio Contractors have established a respected reputation in the community and the construction industry as a whole.  Always aiming for a 'job well done,' the team loves receiving feedback from their clients.  Professionalism, integrity and expert customer service is their goal.  Customers, continued and current, are encouraged to submit feedback to the official website — as well as down below!
C. Abbonizio Contractors
Average rating:
0 reviews