Based in Trenton, Bohonyi Landscaping is a leading landscape design company specializing in both residential and commercial design, offering a wide variety of lawn care and landscaping services.
As a family owned and operated company, Bohonyi Landscaping takes pride in providing the highest quality services while demonstrating a positive impact for neighbors and the community. Each new project is taken on with a fresh, customized approach to meet the exact needs of the client in a manner that is both efficient and cost effective.
Owner and founder John Bohonyi has over a decade of experience in the field and has built an impressive, hardworking staff around him dedicated to earning customer satisfaction at every level throughout the design and landscaping process. As licensed and highly skilled experts, the team at Bohonyi Landscaping offers a diverse range of services that will help bring your lawn, yard, or outdoor area to life in ways you had only just envisioned.
Design and Landscaping Services
While offering a number of individualized services, the main services provided by Bohonyi Landscaping include: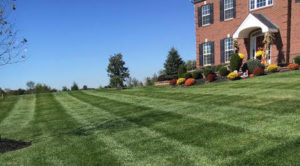 Lawn Care – Using the best and latest in lawn care equipment, the team can take on any lawn, big or small. With weekly or bi-weekly lawn services as well as an effective 6-step lawn fertilization program you will quickly see your lawn transform into the greenest lawn in the neighborhood!
Landscape Design & Maintenance – Through a special landscape design software program, the team is able to show you in real time how to take your current outdoor space and transform it into your dream landscape while considering important elements such as drainage, sunlight, blooming cycles, soil ph, and beyond.
Hardscaping – To compliment your green lawn and outdoor living area, Bohonyi Landscaping provides hardscape design services including:

Patios
Fire Pits
Walkways
Stairways
Walls
Entryways
And beyond
Additional services provided by Bohonyi Landscaping include:
Fencing
Snow Removal
Tree and Bush Planting & Trimming
Tree and Bush Removal
Drainage Solutions
Stone, Mulch, and Topsoil Devivery
Skidsteer Services
John Bohonyi and his team at Bohonyi Landscaping are dedicated to helping you create and maintain a yard that you love and can share and enjoy with friends and family for years to come. Contact the team at Bohonyi Landscaping to get started with your landscaping, lawn care, or design project today!
Certified Consumer Reviews
Average rating:
9 reviews
Jul 22, 2019
I'm glad I'm board with these guys for the 2019 season. John and his team are a pleasure to do business with. I highly recommend this company.
Jul 3, 2019
Very reliable and prices are affordable. The employees are knowledgeable and always courteous which is much appreciated.
Jul 1, 2019
Bohonyi Landscaping does quality work with reasonable pricing. The employees are very knowledgeable and professional. I couldn't be happier!
Aug 11, 2018
Great Job
Reasonable prices, dependable crew, and always very pleasant. Bohonyi Landscaping is top notch! No job is too big or small, I highly recommend these great guys.
Aug 7, 2018
Great stuff!!
I can't say enough about the services from Bohonyi landscaping! Their prices are reasonable and the guys are dependable. Every time they come over my kids wait at the front door where we are greeted warmly. I highly recommend them and consider myself lucky to have found a company that goes that all important extra mile.
Aug 2, 2018
Bohonyi Landscaping knows their stuff
174.200.19.99
These guys know their stuff. I was referred to John by one of my neighbors and I am extremely satisfied with the finished product.
He really knows all about lawn care and I can see why he is in high demand.

I strongly recommend this company.
Aug 2, 2018
Bohonyi landscaping will not disappoint you!
Bohonyi landscaping will not disappoint you!
John and his team did a great job in my house. My patio looks amazing!

They are very friendly, courteous, and professional. I will be using them in the future.
Aug 2, 2018
Been using Bohonyi Landscaping for years!
I've been using Bohonyi Landscaping for a few years now. John and his guys do an excellent job, they are professional and extremely knowledgeable in lawn care. I strongly recommend his services.
Jul 11, 2018
John and his crew are wonderful. We've been using him for years for all of our lawn and landscaping needs. His prices are fair, his work is flawless and He always answers all my questions. I highly recommend him and his team for all of your outdoor needs.