Ausaf Farooqi is a partner attorney with Farooqi & Husain Law Offices. Together, Farooqi and his team specialize in providing legal representation in matters of estate planning, mediation and other family law matters.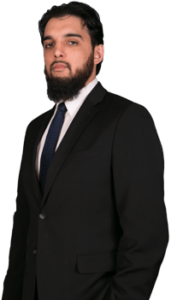 Attorney & Mediator
Ausaf Farooqi is a partner attorney and founding member of Farooqi & Husain Law Offices, a law firm specializing in estate planning and family law. He is also the director and lead mediator of MyShura LLC, a mediation business.  In both of these ventures, the attorney and mediator ties together a wealth of experience in litigation, conflict resolution and customized planning.  As a mediator, Farooqi has provided much-needed clarity and consolation to his clients in dealing with such matters as business conflicts, community based conflicts and prenuptial contract discussions. 
Formerly, Ausaf Farooqi represented DuPage Attorneys, LLC as a Partner Attorney.  He has also maintained leadership roles on the Council of Islamic Organizations for several years. 
Farooqi & Husain Law Offices
Practice Areas
Attorney Ausaf Farooqi has practiced law for a number of years with his law firm, Farooqi & Husain Law Offices.  Farooqi's practice focuses on assisting clients in all aspects of their family law matters, including estate planning and probate litigation.  Throughout his career, the attorney has represented clients in a wide variety of matters within the realm of family law, including annulments, pre- and post-nuptial contracts and foreign divorce judgments.  In all cases, Ausaf aims to obtain favorable settlements and judgments for his clients, which he is regularly successful in doing.
Ausaf Farooqi is proud to offer estate planning, family law and mediation representation that meets the needs of the Islamic community.  He and his team are experts in Islamic family law, Islamic estate planning and community based conflict resolution.
Ausaf Farooqi
Average rating:
0 reviews