Amy Elliot-Meisel is a professional in the academic field. While in pursuit of her Master's (MEd), Amy currently maintains the role of Academic Program Coordinator at Rush University.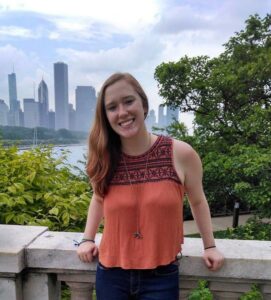 Marquette University
In 2013, Amy Elliot-Meisel enrolled as an undergraduate at Marquette University.  Double-majoring in History and Sociology, Amy fully immersed herself in all aspects of Marquette's College of Arts & Sciences.  All throughout her time at Marquette, she contributed to the Marquette Wire, and all publications associated with the program.  This included taking on active roles with MU's radio, television and print media publications.  Most notably, Amy contributed numerous stories to the Marquette University Television (MUTV) program and also stood as Managing Editor of the Marquette Tribune.  
Amy Elliot-Meisel officially graduated from Marquette University with her Bachelor of Arts (BA) in History & Sociology in 2017.
Loyola University
Amy Elliot-Meisel is currently enrolled at Loyola University in pursuit of her Master's (MEd) in Cultural and Ed. Studies.  Amy is expected to complete this degree in the year 2023.  Embarking on a career in the academic field, her Master's degree and the ensuing experience gained are helping to solidify her as an expert.  With her degree focusing on Cultural and Ed. Studies, Amy is taking a much closer look at the framework of Ed. and all that enriches the field.
Amy Elliot-Meisel currently works alongside the Rush University graduate college faculty as an Academic Program Coordinator.  Previously, Elliot-Meisel worked at Roosevelt University as an Undergraduate Academic Advisor.  In this role, Amy was responsible for advising more than 200 individuals at a time, with a primary focus on freshman and sophomores.  She also instructed sections of FYS 101: First Year Success and TRS 101: Transfer Success; both courses promote the Roosevelt University Mission Statement and foster a positive academic experience and skills development.