Allen Chi has transformed his passions for tech, education, and video games into a career as a gaming consultant based in Las Vegas, Nevada.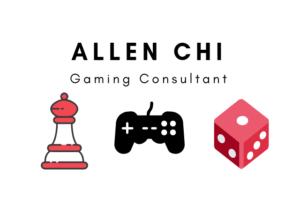 With the rise of gaming-centric streaming platform, Twitch.tv, video game aficionados are realizing a new dream. While competitive gamers have enjoyed career opportunities in the eSports arena for years now, skillful introverts have fallen short. In Allen Chi's view, true talent has been hidden away from public space for far too long. Through his Allen Chi Gaming Consulting company, the life-long gamer helps gifted players unlock the ultimate partnership between passion and profession. Additionally, he provides expertise as a consumer and entrepreneur to independent game developers.
Allen Chi Gaming Scholarship 2020
After the success of his first scholarship program in 2019, Allen Chi has decided to bring back the opportunity for 2020. The gaming scholarship is available to gamers participating in live streaming and/or eSports tournaments. Learn more and apply today on his website: https://allenchi.org/allen-chi-gaming-scholarship/
As a Gaming Consultant, Chi links with dextrous champions of the gaming world. He assists gamers in launching their careers, no matter what stage of the game they are in. Currently, he offers three workshop packages:
Allen Chi teams up with gamers striving for success in the streaming sphere. Through this workshop, he walks individuals through the process of launching their own brands on Twitch. Gamers are finding insane success by transitioning from solo players to public personalities. Chi assists his clients through every stage of this endeavor from broadcasting their first live stream to claiming their own loyal audience.
Through his connections in the eSports realm, Chi introduces rookies with potential to this competitive (and thrilling) field. From local tournaments to international competitions, the Gaming Consultant prepares his clients for live battles in the most popular competitive games.
From mobile application-based to platform-aimed games, Allen Chi mentors independent game developers looking to launch their product to the world. When a game developer partners with Chi, he/she will be assisted in the product packaging and marketing phases of his/her creation. This workshop is geared towards game developers who've crafted a product but have yet to introduce their art to the world.
Check out additional services provided by Allen Chi Gaming Consulting on the Bartering Exchange Network: http://barteringexchangenetwork.com/service/gaming-consulting-by-allen-chi/
Certified Consumer Reviews
Average rating:
2 reviews
Feb 21, 2019
Allen Chi Gaming Career
I recently consulted with Allen Chi on a few problems that I was having in my gaming career. He is a good listener and helped me think through my problem and arrive at a few possible solutions. He really knows his stuff and is worthy of your attention!
Feb 7, 2019
Allen Chi Gaming Design
Our company has been working with Allen Chi on game design. We plan to also engage him on marketing. His services are well worth the cost. Who hope to continue our good partnership with his gaming and design services.
Thanks Ben, We look forward to working with you in the future on your marketing plan as well!