Find all the information you need on Accel Automotive from phone & address to reading and writing reviews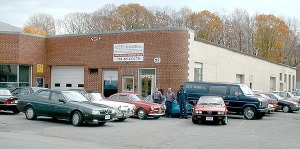 on the Waltham Massachusetts based automotive shop here on Certified Consumer Reviews.
Accel Automotive is the #1 automotive shop in Waltham, MA and New England for that matter. The shop has been serving the Waltham community since 1994. Accel Automotive stands as one of the highest rated in integrity and quality among competing shops.
The company goes beyond auto services. They make it their mission to serve the customers needs first, solely regarding the vehicles as unique properties, and known for their trustworthiness and dependability. Accel Automotive stands in a 7,000 square-foot facility, fully loaded with the essential tools to tune up and work on your vehicles. The company prides itself in its customer satisfaction rating. Customers leave the shop thankful they chose Accel, and as the company known nickname implies, they feel like they just brought the car home from the auto spa.
Founders and Owners, John Di lanni, Brian Schoener, and Leroy Ward formed Accel Automotive in 1994, since then they have thrived with gleaming reviews and success.
Di Ianni and Dchoener wanted Accel to provide a level of integrity and expertise beyond that of the usual garage environment, creating an unintimidating atmosphere, where customers always have direct communication with the owners. Thinking of taking a visit to the shop? Stop on by and ask for one of the guys. They'll be happy to guide you through any of their services. They want you to be as comfortable leaving your car at the shop as you are driving it!
Here are a few benefits to expect when visiting Accel Automotive:

12 month/12,000 mile warranty on our labor
Manufacturer's warranty on parts
Open Monday thru Friday 7:30 – 5:30
After-hours drop-off
Access to public transportation
Service reminders on request
Pre-purchase vehicle inspections
VISA, MasterCard, & Discover cards accepted
Technical competence and friendly faces that our not afraid to take on projects that others shops turn down
Let us help you get your dream car or daily driver back on the road today at Accel Automotive!
Accel Automotive
Average rating:
1 reviews
Apr 14, 2016
Alfa Romeo Certified Master Technicians
Accel Auto is the best choice for all of your car's service needs! Whether you are speaking with Sylvie or directly to Brian, John or Leroy they take the time to understand what is going on with your car and diagnosing symptoms over the phone or in their Facility which has the latest equipment.

If you need a mechanic that actually cares about you and fixing your car and willing to work on a hard project then give Accel Automotive in Watertown a call.