In 1978, Michael Thornton founded Thornton Law Firm LLP along with two other law experts. The trio had already established themselves as champions for victims dealing with mesothelioma and a variety of asbestos-related illnesses throughout the New England area. Forty years later, the team has expanded exponentially, establishing a solid reputation throughout the region along the way.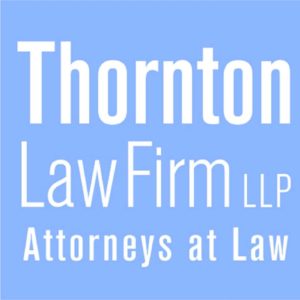 Thornton Law Firm LLP is established on both the east and west coasts of the United States. Their offices are located in Massachusetts and California, enabling the legal team to facilitate services for a wide range of geographically-located clients. The team is comprised of well over 20 legal experts, including Partner, Associate and Counsel Attorneys, as well as an Asbestos Staff. The accomplishments of the team have aided in creating a recognizable prestige.  
The experts at Thornton Law Firm cater specifically to clients facing legal matters relevant to:
Birth Defects

Mesothelioma and Asbestos

Drugs and Medical Devices Litigation

Toxic Torts

Personal Injury
Through accomplishments in the state of Massachusetts alone, the TLF team has enjoyed favorable recognition over the years. Some honorable mentions have included:
→ A rating service which recognizes outstanding law professionals serving a wide range of practice areas
Listing in The Bar Register of Preeminent Lawyers
→ A guide highlighting the most distinguished and successful law teams in the United States
Recognition in lists such as:
→ 100 Best Trial Lawyers
At Thornton, the team of experts understands that each and every case is unique and individually important. That's why they always approach every situation with a customized strategy. While the team maintains a set of proven techniques, they are always open to expanding in the way of productivity to match every individual case. Throughout its 40 year lifespan, Thornton Law Firm LLP has come to develop solid expertise surrounding every facet of personal injury law. The team has facilitated a wide range of personal injury cases and issues including:
Automobile and vehicular accidents

Jobsite and construction accidents

Products liability
To learn more about Thornton Law Firm, visit their website where you can chat live with a customer service correspondent: https://www.tenlaw.com/. Or, contact the team directly at (888) 491-9726.
Certified Consumer Reviews
Average rating:
0 reviews