A pioneer of innovative products and a leader in the POS industry, Harbortouch supplies thousands of small and mid-sized businesses with state-of-the-art POS solutions and payment technology.
Processing more than $17 billion in transactions annually, Harbortouch is a trusted supplier of best-in-class point of sale technology. Dedicated to providing merchants with cutting edge equipment, Harbortouch offers a wide range of hardware with no upfront costs, including Electronic Cash Registers, Wireless Terminals, and the company's flagship Echo and Elite POS devices.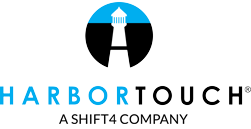 Harbortouch's point of sale product includes a variety of useful POS features, including:
● Basic and advanced inventory management
● Vendor management
● User permissions
● Employee time clock
● Table management
● Delivery and driver management
● Online ordering
● Tips and gratuity
● Split payments
● Refunds and returns
● Open priced items
● Discounts and promotional pricing
● Client display
● Self-service kiosks
And other benefits include:
Secure Payment Processing
All Harbortouch transactions are processed using PCI-validated P2PE (point to point encryption) and tokenization for maximum security.
Gift Cards and Loyalty Programs
Solidify your relationship with clients by incentivizing them with special offers and promotions via our loyalty programs. Additionally, you can boost sales and drive brand awareness with customized gift cards.
POS Installation, Training, and 24/7 Assistance
The installation of all POS and payment solutions is facilitated free-of-charge and onsite training is also included with every POS order. Not to mention our 24/7 in-house guidance and technical assistance – your business isn't 9 to 5 and neither are we.
Harbortouch's powerful Lighthouse Business Management Product provides merchants with remote access to their POS devices 24 hours a day, 7 days a week. Lighthouse enables you to view reports online, make changes to your menu or inventory remotely, and manage your employees from anywhere. It also features powerful brand management and client engagement tools.
Keep up to date with the latest from Harbortouch on their social media:
https://www.facebook.com/harbortouch/
https://twitter.com/harbortouch



Certified Consumer Reviews
Average rating:
0 reviews