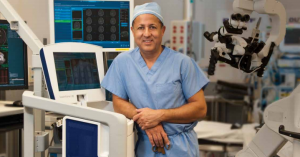 Neurological Surgery, P.C. is the largest private neurosurgery practice in the New York tri-state area. Physicians affiliated with Neurological Surgery, P.C. serve as the Chiefs of Neurosurgery in hospitals located in Great Neck, Rockville Centre, Queens, Manhattan, and many other parts of New York. One of those physicians is Ramin Rak, an accomplished neurosurgeon who specializes in the treatment of complex spinal injuries. Ramin Rak relies on years of education and experience, along with his world-class neurosurgical techniques, to perform complex operations including treatment of awake craniotomies, the Gamma Knife and CyberKnife procedures, and Spinal Fusions.
Ramin Rak has earned high praise for his completion of complex spinal surgeries over the years. Publications like the Huntington Hospital Annual Report, the Huntington Patch, North Shore LIJ, and MD News have featured write-ups on Ramin Rak and his completion of uncommon procedures like awake craniotomies. Additionally, his research has been published in dozens of medical journals including Neurosurgery, Journal of Microscopy, Micron, and the Journal of Neurosurgical Sciences. Ramin Rak has even been invited to present his neurosurgical techniques at medical conferences across the country. Some of these speaking opportunities presented themselves due to the doctor's membership in the Congress of Neurological Surgeons (CNS), and the American Association of Neurological Surgeons (AANS).
Ramin Rak began his medical education at the Free University of Brussels in Belgium, where he completed his undergraduate and medical degree. He then traveled to the United States and joined Neurological Surgery, P.C. following the completion of internships, externships, fellowships, and residencies at the following hospitals:
Washington Hospital Center (Washington, D.C.)
NIH/NINDS/Surgical Neurology Branch (Bethesda, MD)
George Washington University Department of Neurosurgery (Washington, DC)
Mid-Atlantic Spine Institute (Annandale, VA)
University of Maryland (Baltimore, MD)
North Shore-LIJ (New York, NY)
University of New Mexico, Albuquerque Department of Neurosurgery (Albuquerque, NM)
Learn more about Ramin Rak, or read his online reviews on Manta or Certified Doctor Reviews.
Certified Consumer Reviews
Average rating:
14 reviews
Feb 14, 2016
Dr. Rak is Not Only a Good Surgeon, But a Kind and Compassionate Doctor
In 2009, my wife underwent surgery for the removal of a brain tumor. After all the worry and concern it is difficult for me to put into words the gratitude I feel for the care my wife received at every level.

First and foremost I would like to thank Dr. Ramin Rak and his assistant. They patiently answered all of our questions, made every possible effort to make us comfortable and performed wonderfully in the operating room. Family and friends have a difficult time believing that my wife had brain surgery and is making such a strong recovery. Dr. Rak is not only a good surgeon, but a kind and compassionate doctor. At every level we experienced professionalism, compassion, and competence.
Oct 8, 2015
Thank you, Dr. Ramin Rak
Dr. Rak thank you for taking such good care of us!
Jul 15, 2015
Our Gratitude to you Dr Rak
Dr. Rak the words thank you do not express our appreciation and gratitude for what you did for our son. We had guardian angels with us that night and we're so happy you were able to fix him up!
Jul 14, 2015
God works through Dr. Ramin Rak's Hands
I've always said, God works through your hands. Seeing how many lives you've saved; I never thought one would be my husbands.

Besides your surgical expertise, you are a true gentleman. Dr. Rak, you are a shining star in your chosen profession. Your knowledge, compassion, and confidence gives comfort to your patients and their families to trust their loved ones life in your skilled hands.

Thank you for giving me my soulmate back. Whatever path God has chosen for us we will take it hand in hand together.

Dr. Rak, we will always be in your debt, forever in our hearts and eternally in our prayers. Please continue passing on your God given gift to others in need!