Jenny Brown is the co-founder of Woodstock, a haven for animals who have been rescued from abuse.  Inspired by her own story as a cancer survivor and amputee, Jenny initially set the ground's focus on taking in rescued animals who have physical disabilities. Her esteem in the animal community has afforded her unique opportunities to pair several of the animals with custom fit prosthetics and other devices that aid their disabilities.  Above all else, Jenny loves the opportunity Woodstock presents to give rescued animals a better quality of life.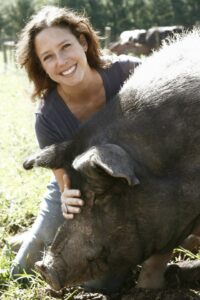 Spreading awareness is often the driving force behind change.  Having worked in the undercover documentary realm of tv and film earlier in her career — Jenny Brown knows this all too well.  Since branching out on her own from Woodstock, Jenny has embarked on a mission to educate the public about veganism, plant-based living and animal rights.  Nicknamed the vegan speaker, Jenny acts as a voice for the voiceless by shining a spotlight on the horrors and reality of factory farming.  Currently, the vegan educator hosts lectures at colleges and universities across the country.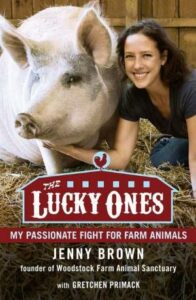 Through and through, Jenny Brown is an animal rights activist.  After learning about the cruel and dark world of factory farming, a young Jenny discovered what would become her personal and professional life's greatest passion.  Springing into action, she adopted a vegan, plant-based lifestyle.  Jenny also set her sights on highlighting the reality of animal cruelty in her work in tv and film.  Filming an undercover documentary on factory farming further fueled her fight for animal rights — which she continues to battle for today.
Be sure to check out Jenny Brown's The Lucky Ones to learn more about her story.  Her veganism and animal rights focused written works have also been published in major publications, such as The New York Times, Rolling Stone, CNN and many more.
Certified Consumer Reviews
Average rating:
0 reviews