The Ultimate Wine Run is a 5K race that is unlike any other race.  The races are held at vineyards, wineries and appealing venues throughout the country and all proceeds that are raised by these runs are donated to The Worldwide Push Foundation which uses the funds to help underprivileged students go to college.
The Ultimate Wine Run, which was founded by Aaron Scott, is not your average 5k run.  This 5k is held in the evening and takes place at some of the most beautiful vineyards and venues in your area.  The race is  followed by a celebration that includes music by a live DJ, Food provided by only the best food trucks, and of course… Wine!  The festivities often run well into the evening, so be sure you bring your lawn chairs and blankets.
To really experience the full impact of the evening, there are a few things you should do.
Wear comfortable running shoes

Invite your closest friends

and family members to join you (must be 21 or older).
Dress in your favorite running outfit (for many this the wackiest outfit you put together)
Prepare to dance, sing and celebrate all night long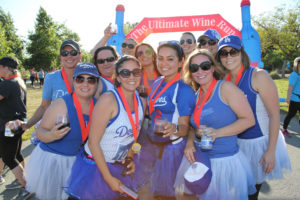 If there is not a race near you, contact the Aaron Scott and find out how you can start your own Ultimate Wine Run.